SHIV STUNNED WITH JAMES DIALOGUES
Posted date: 07 Mon, Mar 2022 10:09:45 AM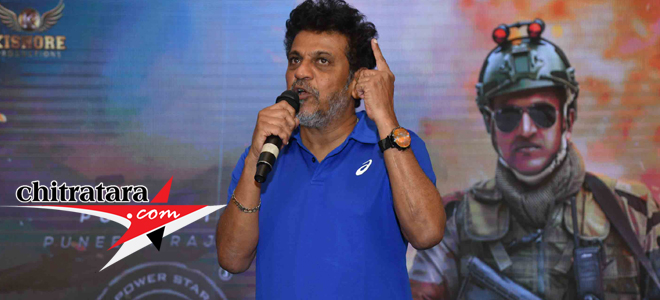 Dr Shivarajakumar coming before the close media friends at the James pre release event on Sunday night at Lalith Hotel ashok disclosed one particular dialogue that is so touching and emotional for him and others.

`Devru halavarannu Pritisthane adre kelavarannu bega katkondu bidthane` is the line of director Chetan Kumar that Puneeth says in the film. That line came before Dr Shiv at the dubbing time stunned him and made him completely emotional. There are several such dialogues. Even after 100 plus film of acting dubbing for my brother biggest challenge. He has special soothing effect in his voice. That is very difficult to bring in.

In choked voice before the media after his formal address on stage Dr Shiva stated that it is becoming very difficult to lead routine life. On the morning exercise is it necessary I feel. APPU was so good in his workout. I have appreciated him everywhere and he was always checking about me. I try to bring his humor in my films.

Dr shiv in emotions further said his Bairaagi is coming first. VEDHA is shaping up well.

On fans asking to unveil Appu statue, he is averse to it. I still consider him alive. I cannot see him in stones he made it clear.

I have not gone to Puneeth house off late because how to control emotion is my question. Ashwini father demise is further disturbance Shiv recalled.

On the Shakthi Dhama that is compleying 25 years he has further goals. First tome the students came to Bengaluru and stayed. They asked for one day extension to stay. The education is emphasized for the children. We are doing our best. The support extended by Tamil actor Vishal we are disussing. We cannot take monetary help just like that. We are able as of now he stressed.
Kannada Cinema's Latest Wallpapers
Kannada Cinema's Latest Videos
Kannada Movie/Cinema News - SHIV STUNNED WITH JAMES DIALOGUES - Chitratara.com
Copyright 2009 chitratara.com Reproduction is forbidden unless authorized. All rights reserved.