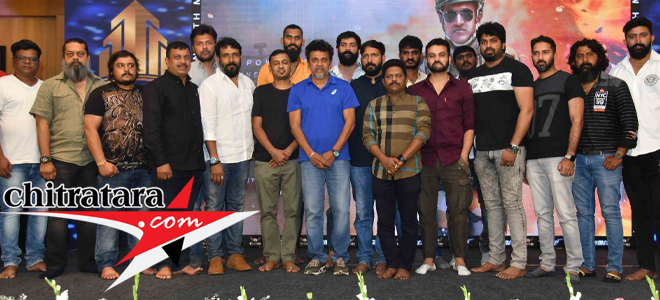 The mega film of producer Kishor Pathikonda is having a mega star cast, mega subject and taking a mega opening in 4000 screens in Kannada, Telugu, Malayalam, Tamil and Hindi languages. Director Chetan Kumar fourth film is ready with all technical work and fans, industry members and others are very eagerly waiting.
For the first time simultaneously in Canada, Europe, USA and other countries, the film James is releasing. Kiran from Canada had come to explain the demand for Puneeth Rajakumar films. Already screened have been booked and in some places a group is approaching for release of the film. Chetan a friend of Kiran is joining in release at other places. The non-Kannadigas are asking for this film release. Appu Lives on says Kiran addressing the media.
This is perhaps the first such opening for a Kannada super star and it also happens to be the last commercial film of Appu – power star Puneeth Rajakumar. For the portions of Puneeth Rajakumar, his brother Dr Shivarajakumar has done the dubbing.
The sad demise of Puneeth Rajakumar on 29th of October 2021 – this is the first release and in J Media Factory the pre release media meet took place on Sunday night. A gala event is planned at Hospet very soon.
Producer Kishor Pathikonda says as an admirer of Appu he started the film and the film is releasing in his absence. For this film the fans of Puneeth and Shivanna are backbone. Shivanna dubbed for the film. I will be indebted for lifetime for him. The censor had given U/A certificate and in last fifteen days director Chetan Kumar sleeping for two hours a day finished the end product applauded Kishor Pathikonda.
The promotional song for 'James' scored by Charan Raj features Rachita Ram, Ashika Ranganath, Srileela Chandan Shetty, Dhiren Ramkumar, Yuva Rajakumar have taken part in this song. The line of director Chetan Kumar 'Fans Ge Ivre Gaadu' is something arriving at unique situation.
At the media meet producer of Salaga KP Srikanth, actors Harsha, Anil, Tilak, Chikkanna, Dr Ravi Verma, Music composer Charan Raj, action directors Ravi Verma, Chetan D Souza, dance director Mohan, Rajesh, Mahantesh, Adi, Charan from direction team were present.