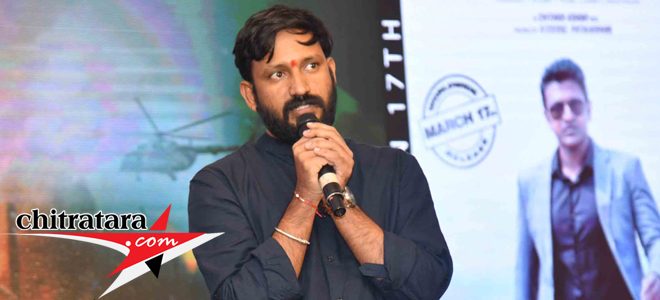 Director of eminence with good temperament on all occasions Chetan Kumar (Bharjari, Bahaddur and Bharate top grosser films director Chetan Kumar) feels blessed and depressed at the same time.
Blessed because of a huge project with Appu in the lead 'James' and with the passing away of Appu, film releasing is the most depressing situation of my life, feels Chetan Kumar.
God should have given many more years for such a very good human being Appu says Chetan Kumar and says he had not even an iota of trouble from the actor. Appu was so enthusiastic and encouraging and directors like me were fortunate to work with him. I have very good memories in my mind and the passing away is misfortune.
I have many philosophical things in this film 'James' and it is narrated in different shades – James has different meanings in the film.
For retaining the voice of Appu that was told at the time of shooting I have struggled hard. Referred to by a few companies specialized, done dubbing from six persons to match the voice of Appu and finally Shivanna suited well says Chetan Kumar.
We have 70 plus actors and working with all of them and my technicians like cinematographer Swamy, art director Ravi Santhehaiklu, music director Charan Raj, later V Harikrishna adding to the team that took the film one step ahead, dance directors Imran Sardaria, Mohan, Bhushan, stunt directors Dr Ravi Verma, Ram Lakshman, Chetan D Souza and Arjun for four fights that is a feast, Nirmal CG work, editor Deepu S Kumar work all added up.
In the coming days we will introduce the actors such as Sarath Kumar, Priya Anand, Aditya Menon, Rangayana Raghu and others. As of now, the media and fans are promoting the film. James is the emotions of fans and all expectations will be met, says Chetan Kumar.
After this film`s release on March17, Chetan Kumar is keeping some time for the family and will not take up his next project until May 2022. His wife (Aththe Magalu) is very cooperative and understands his situation. She is working in Infosys that is a great support, he adds