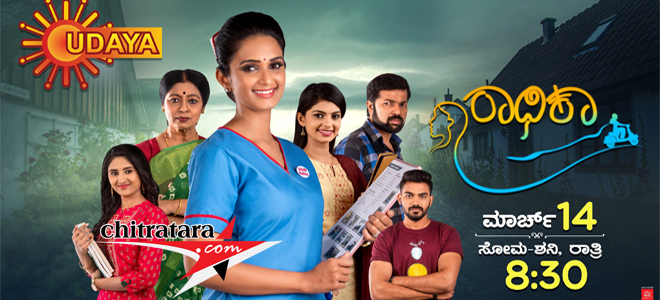 Udaya Channel has been entertaining its audience with variety of fresh, experimental and family oriented fiction content since 28 years, be it, Yarivalu, Gowripurada Gayyaligalu, Sundari, Kasturi Nivasa, Kavyanjali, Manasare, Nayanatara, Netravathi or Sevanthi. Now it is bringing yet another show 'Radhika' with fresh storyline.
Radhika is a middle class unmarried woman, who is the sole earner of the family. She is career oriented and striving to get her siblings settled in their professional lives. She eats food without salt, as she has taken oath that unless her siblings reach their goals, she wouldn't consume the salt. She wishes her brother to become police officer, one sister to become doctor and the other to get corporate job. Radhika accepts every challenge in her life with smile and believes that Courage is the only asset a financially weak girl would have with which she has to succeed in life.
Radhika works as a Head Nurse in a Private hospital. She is the most caring, liked, Jovial nurse in an entire hospital. Most of the patients find an adorable friend in Radhika. She stands strong and confident both in personal and professional paths.
Will Radhika win in settling the lives of her siblings? Will Radhika ever get to enjoy her freedom? With all these curiosities 'Radhika' brings freshness in story to the audience with emotionally stunning screenplay which the small screen has never seen before.
Team 'Radhika' has passionately done a lot of hard work on story, screenplay, casting and making in order to entertain the viewers with a unique product. Ganapathi Bhat is the producer of the serial, under the banner Sri Durga Creations. Promising director Darshith Bhat has taken the responsibility of direction. Ganesh Hegde and Krishna Kanchanahalli have shown their cinematography skills. Sunaad Gautam has scored the Title song for Radhika. Turuvekere Prasad has penned the dialogues and edited by Raghavendra.
The specialty of the serial is casting. Radhika is played by Popular and Promising Kavya Shastry, who played 'Trishala' in Nandini which was too a powerful bold fictional character, she proudly shared that she was lucky to get such roles in Udaya TV. The male protagonist is the charming and handsome Sharat Kshatriya. Rest of the cast involves veteran actors Gayathri Prabhakar, Ravi Kalabrahma, Malathi Sirdeshpande, Suresh Rai and Savitha Krishnamurthy, experienced actors Shwetha Rao, Sunil, Jeevan, Rekha Sagar and fresh pretty faces Inchara Shetty, Priya Darshini and baby Dhriya Adithya.
'Radhika', one of the most awaited serials by Udaya TV which will be launched on March 14th at 8:30 PM.