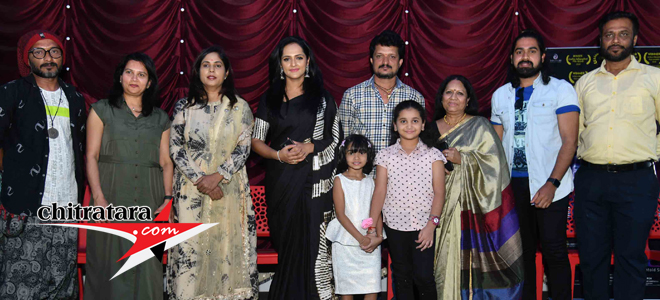 ``Autism is not a disease but a disability or you call it a special child`– the noted actress Jyothi Rai corrected the co-actor Arjun at the media meet of `Varnapatala`.
The actress Jyothi Rai has been facing autism ever since the birth of a male child in her life. Urveesh my son is nine years and lack of knowledge among the people is the worrying factor on `Autism` says Jyothi Rai. None of the doctors she inquired explained this disability. Yet my son Urveesh has special qualities. Jyothi Rai has done a role that is very close to her heart in `Varnapatala` – mother of autism child in the film directed by Chetan Mundadi, a national award winning director. I am a live example for this reel life subject. Eye contact is not possible in such a child. He is going to regular school with a shadow teacher added Jyothi Rai doing the lifetime role.
What is interesting about this film `Varnapatala` is that two best friends Kavitha Santosh and Dr Saraswathi Hosadurga who have lived in the UK for the last 25 years are producers. Both are aware of this disability. A thorough study was conducted for this film. Dr Saraswathi Hosadurga after doing MBBS in Hubballi is a renowned pediatrician today in the UK. She says this is a global topic. We are focusing on the family condition and giving a holistic approach. Lack of government attention on such disabilities is a worrying aspect she says.
One of the producers Kavitha Santosh a school friend of Dr Saraswathi Hosadurga says there is rapid increase in this type of children in our society. We met nearly 100 plus parents with such a child and then made a story. Compared to other countries in India there is a dearth for attention to autism children, she says.
Baby Anshika Shetty is in the autism affected child role. So sweet looking Anshika says I have fulfilled my father`s dream of acting. Baby Dhanika is also in an important role. Indira Nair is the grandmother in the film. She studied in Speech and Hearing Institute in Mysuru and has thirty years work experience. She had seen many students with autism in real life.
Director of Madipu Chetan Mundadi says he got this offer to direct from a meeting with director AP Arjun. It is a 'Kaduva Cinema' rather than 'Noduva Cinema'. Such children have extraordinary skills. It is a sensory issue we should find out at the time of birth of a child, the parents, society, and education is focused in the film he adds.
'Varnapatala' , an untold story has already entered eight different festivals. Sai Ganesh Productions film has Suhasini Manirathnam, Jyothi Rai, Anup Sagar, Anshika Shetty, Dhanika Hegde, Arjun Nagarkar, Indira Nair, Chetan Rai Maani and others.
Ganesh Hegde, an eminent cameraman, stood up and saluted the two child actors of this film 'VArnapatala' and I used to collect tears while shooting and some situations haunted me, he explained.
Srikanth Gowda editing, Harsha Vardan Raj music, Vinu Balanja is writer, Karthik Sargur is lyricist. The story team consists of Dr Saraswathi Hosadurga, Karthik Saragur, Sudhir Shanbhag, Pallavi Rao and Mrs Kavitha Santosh for 'Varnapatala'.