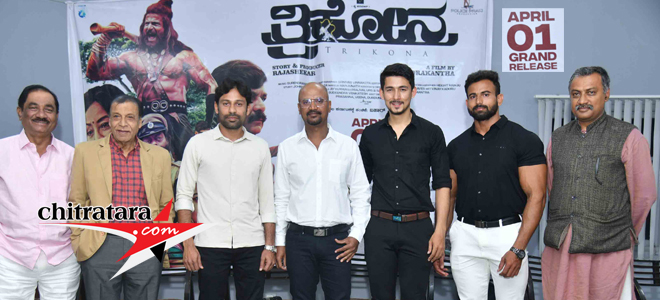 A film with unique concept 'ATS' – AHAM, SHAKTHI AND TALME (Ego, Strength and Patience) is all set to hit silver screen on April 1st says producer Rajashekhar and director Chandrakanth.
This is going to fit in all age groups and which is important in life the audience will decide. In a human being so many emotions are filled but we are concentrating on three major aspects with three tracks, says intelligent (director of '143') Kannada film Chandrakanth. We started this project in January 2020 and now all set for release after two years he says. Buddivantharu should come and watch the film as the film is releasing on April 1, the Murkhatana – foolishness is eradicated he hopes.
Producer Rajashekhar (of Amrutha Vahini, Barfi and Parole) also director has given up one and only producing this film. He has brought in popular character artist Suchindra Prasad as brand ambassador of this film. Suchindra Prasad watched the film and later accepted the offer. Another big name in the industry distributor Basha is distributing the film all over Karnataka. This is a content oriented film. We have planned publicity also in a big way, says Rajashekhar.
For veteran actor, director and environmentalist Suresh Heblikar the role is so close to his heart so the experience for him to perform was rather very easy. He had seen people in his life that immaculately matched his role.
Aase, Avakasha, Prathibe, raga dvesha, matsara are part of human life and I am happy to be part of this film as 'Raya Bhari' says Suchindra Prasad.
Distributor Basha says this is a suspense thriller and curiosity builds up for the film as they start watching 'Trikona'.
Releasing first in Kannada in other languages Telugu and Malayalam the film is planned for release.
Maruthesh , a 6 feet one inch 105 kilograms macho man is both antagonist and protagonist of this film. He hails from Ballari – Mr India and Mr Karnataka winner in bodybuilding.
Rajeev has the capabilities that you find in Tony Jaa and appeared for the first time in Kannada doing various stunts and acting.
There are three families also in the meantime. Suresh Heblikar and Lakshmi, Achyuth Kumar and Sudharani and Rajeev. When all three in different vehicles are on the highway, the troubleshooter is Maruthesh who comes in a unique vehicle.
DOP is Srinivas, Thirumalesh is editor and Surendranath has done music for TRIKONA.