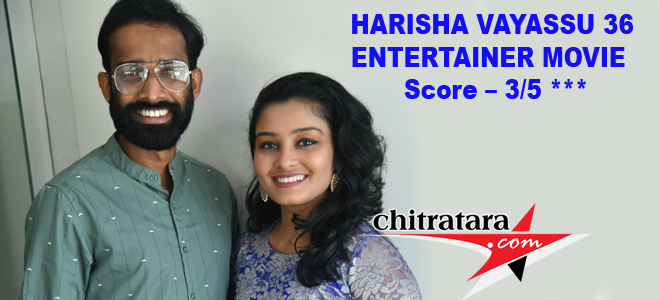 Duration – 120 minutes, Category – Marriage issue, Score – 3/5
Title – Harisha Vayassu 36, Producers – Lakshmikanth Rao HV, Trilok Kumar Jha, R Deepa, Chintakunta Sridevi Direction and music – Gururaj Jyeshta, cinematography – Mohan Padre, Cast - : Yogish Shetty, MS.Umesh, Shwetha Arehole, Rohini Jagaram, Prakash and others.
Firstly, what a beautiful Kannada of Dakshina Kannada accent that draws you to theaters, the title song of Puneeth Rajakumar is an additional bonus and on the story line the obvious, no marriage at 36 for Harisha is the crux of this film.
Age catching up with marriage not happening is the biggest worry for Harisha like how tonsure head was a problem in Ondu Motteya Kathe. In addition to Harisha age 36 and no marriage, the lack of a proper job puts him in a dilemma. Surrounding this subject director Gururaj brings in father and son bondage. This portion is touching and strikes the hearts.
Harisha`s attempt to get the right pair for him comes so close once but Shwetha adjudges him wrongly, as she accepts the hands of another boy by the time Harisha buys a car and comes with pride. Age and proper job for the boys to get married is a point stressed by this director.
In the role of Harisha is Yogesh Shetty – he is natural and emoted very well. MS Umesh as a partially deaf father given a neat performance, Shwetha Arehole is convincing. Harish`s friend character is lively.
The song Jagadoddaraana……is superb and the montage song Mareta Naguva Marikalisuva…is timely and the top song of course is the one sung by Power star Puneeth Rajakumar.
Cinematography top angle shots are impeccable. It is a simple and neat treat.