Posted date: 12 Sat, Mar 2022 09:33:37 AM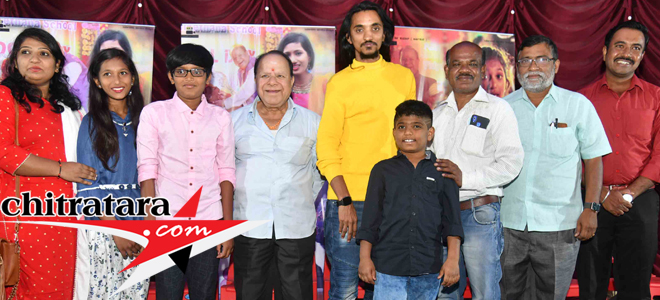 A new Kannada film 'School Love Story' is having a different concept and not generally thought of by looking at the title. Love Story is parent and child in this film, says debutant director Chiranjeevi Nayak. The title and narration are different he says. In the past, he directed 'Fida' and 'Mere Nam Puri'.
One of the four songs of this film En Modi Madide Bujji….sung by Rajesh Krishna on a young boy and girl came up for discussion at the media meet, as the lyrics are not acceptable. The same song is used on elders and you would find it convincing in the film mentioned by director Chiranjeevi Nayak. The disparity of rich and poor seen at a young age is touched on in the topic and how children overcome it is also point to be noted.
Veteran actor of 77 years MS Umesh has done an advisor role in the film and it comes for five minutes in the film.
Child actors Srushti, Siddarth, Prateek Kumar, MS Umesh, Anusha, Ravishanker, Shivakumar and others are in the cast of this Chinjeevi Cine Creations.
Story, screenplay, dialogues, editing, production and direction by Chiranjeevi Nayak, Shivakumar is co producer, Ravi-Pramod handled cinematography, AT Ravish scores music, Kishor Raj and Chandrika handled dance, Rajehs Krishna, Vijayaprakash, Indu Nagaraj and Mahoob Sab lent their voice for four songs.
M Ramesh is distributing this film in April 2022.
Kannada Cinema's Latest Wallpapers
Kannada Cinema's Latest Videos
Kannada Movie/Cinema News - SCHOOL LOVE STORY READY - Chitratara.com
Copyright 2009 chitratara.com Reproduction is forbidden unless authorized. All rights reserved.