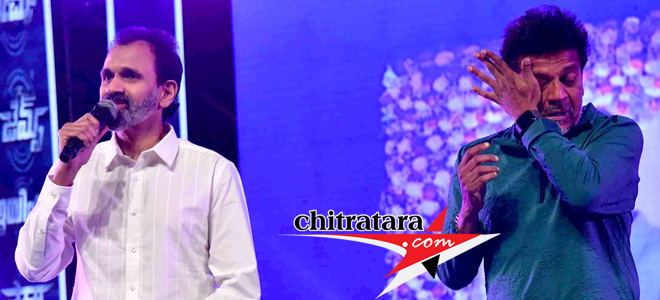 As expected, the emotions doled out at the James – (set for 17th March 2022 release worldwide) event on Sunday night in the presence of family members of Dr Rajakumar, James film team and thousands of fans attending it.
It looked like another 'Puneeth Namana'. Raghavendra Rajakumar coming up on stage said 'I will go away and search for him' to his dear brother Appu he told. Irak Agtha Illa….he lamented. Consoling himself later he said he would stay for his fans and asked the fans to stay with him – all the best James he said. Abhimani Devarugalu made Muthuraj my father Dr Rajakumar, Shivanna as Dr Shivarajakumar. I am jealous with 'James' team because they spent four very good months with my brother Appu. Yee cinema eshtu Pritisbeko Ashtu loving it. Nanu Kanthumba Nodibiduththene! Abhimanigalu know what to do at this situation. The fans present at the event roared with the name of Appu.
Shivarajakumar coming on stage hugged his brother Raghavendra Rajakumar who was shivering. Both collected tears at this moment.
Dr Shivarajakumar explained his situation – without Appu and ill health of Raghanna, I have to live controlling my emotions today. It is a very difficult moment of life, he stated.
Appu cinema from Premada Kanike till today seen Appu films and appreciated his ability Dr Shiv recollected. Raghu speech further build emotions. The inside pain is very tough. In five of us one is not, living is difficult to say. I am Punyavantha with brother like Appu. His humanity is so good. Giving voice to Appu role …very very difficult. I heard a few stories but it could not happen. I see James in Mysuru. I would come for 25 days to Hospet function.
Aid to Shakthi Dhama was also presented to Dr Shivarajakumar at this time.
He thanked producer Kishor Pathikonda, director Chetan Kumar, cinematographer Swamy and whole team for making him and Raghanna part of this film.