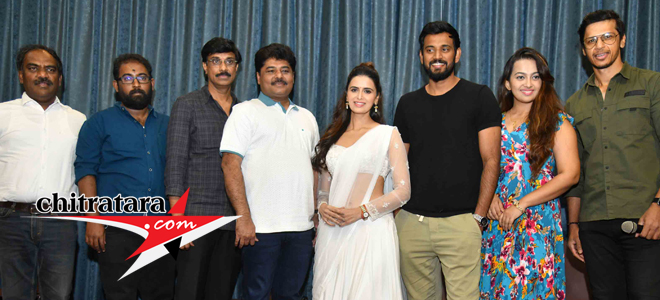 A commercial entertainer content film from debutant producer Subraya Valke starring Darling Krishna, Meenakshi Dixit, Ester Naronha and others in the direction of Rudramuni is hitting the silver screen on 1st of April 2022. The film with a very good comedy track by Sadhu Kokila was shown at SRV Theater. Subraya Valke first film in Kannada and he hails from Kumata and settled in Belagavi. He is a hardware businessperson in profession. Out of passion to do the best cinema, he is in the cinema profession.
In the first and last page is important stated producer Walge and thanked Darling Krishna for making it to the publicity of the film. Darling Krishna came all the way from Khazakisthan and we are expecting good results, he pointed.
Explaining on the Local Train contents Darling Krishna stated a train is connected with friendship and journey. It is Pukka Paisa vasool cinema and commercial entertainer, he added.
This is a film made without any compromise; the scale of the film is good. I have a song that is a rainbow of colors on screen and Paisa vasool contents are part of this film she added.
Editor of high reputation PR Sounder Raj says this is a rich and lavishly made film.
The lead actor in the female Meenakshi Dixit thanked for the love and affection she received from this film team. This is a music and action cinema. I am a girl next door in my role and any actor would love to do such a role. There are many layers in the screenplay. I am hoping for the best added Meenakshit Dixit of her debut in South.
A college-going hero with two heroines Meenakshi and Ester Naronha, 70 percent of Kannada artists are found in this film. 'Saniha Saniha' is shot in seven sets by Chinni Prakash and the student's journey in local train every day is also filled with emotions and action. Raju Sundaram also returns after 23 years and done choreography.
Bhajarangi Loki is the main villain of this film and the role is laced with comedy, he says.
Arjun Janya has composed four songs, Ramesh Babu is cinematographer of Local Train.