Posted date: 16 Wed, Mar 2022 01:58:55 PM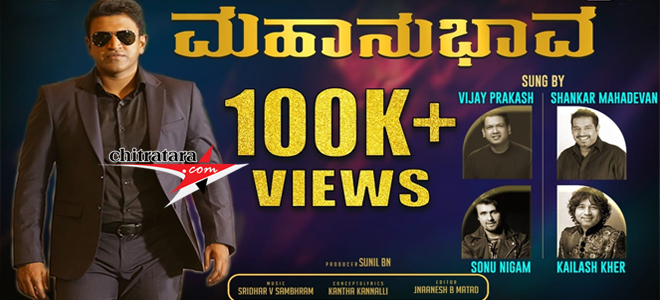 At the time of release of the last commercial film of Dr Puneeth Rajakumar 'James' coinciding with his birthday on March 17, two lovely songs are also tribute and it is very sad that Appu is not living with us today.
The song 'Mahanubhava' is another glorious tribute because of the lyrics and the singers. Sonu Niga, Shanker Mahadevan, Khailash Kher and Vijayaprakash delivered one song 'Mahanubhava' and it is like an introduction song of Appu film.
The top music composer Sridhar V Sambram composed the song for the lyrics of Kantha Kannali. The personality highlight of power star Puneeth Rajakumar is the part of the lyrics of 'Mahanubhava' song.
Another interesting part of 'Mahanubhava' song is that most of the singers do not take remuneration. According to sources, the title 'Mahanubhava' was planned for Puneeth Rajakumar in his career.
Sunil BN invested in the production of this song and in 'Sambram Studio' Youtube this 'Mahanubhava' song was released.
Kannada Cinema's Latest Wallpapers
Kannada Cinema's Latest Videos
Kannada Movie/Cinema News - APPU IS MAHANUBHAVA - Chitratara.com
Copyright 2009 chitratara.com Reproduction is forbidden unless authorized. All rights reserved.