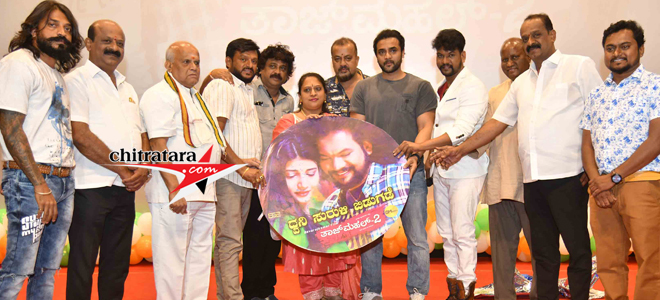 The roaring star Sri Murali released the ambitious project of director turned hero Devaraj Kumar at Kalavidhara Sangha and hoped for the success of the film.
An affection song in the style of director Devaraja Kumar is also out in the social media. Of course, the song is also roaring coinciding with the roaring star Srimurali releasing it.
Srimurali remembered Appu Mama at the release of 'Taj Mahal 2' audio. Appu was telling us that new talent should come to our field of cinema. Looking at the song I feel the wish is slowly being fulfilled stated Srimurali. It is devotion, effort and fear that keeps us going to the routes of fruits. The audience comes in the form of gods and gives us success as mentioned by Srimurali.
How much hard work you have done is not important in this field. How you have treated the audience and won their mind is what Srimurali had told – this is the source of inspiration for me, stated Devaraja Kumar addressing the gathering. Shukla is the female lead. Manvarshi Navalgunda penned lyrics and Vikram Selva composed music and Veenus Murthy worked behind camera with Devarajakumar. We are planning to come in June this year, added director and hero of the film Devarajakumar.
Former KFCC President and veteran producer SA Chinne Gowda, Ba Ma Harish, KFCC VP Umesh Banakar, Vijay Simha, Victory Vasu, Ba Ma Girish, Sunil and others were present at the audio launch.
``Jeeva Biduve Ninagaagi…Jeeva Koduve Ninagaagi ' sung by Vijayaprakash captured on hero Devarajakumar and Shukla by promising lyricist Manvarshi screened on this occasion. Manvarshi Navalgunda described the song contents in the film 'Taj Mahal 2' on this occasion.
O Music brought the songs to the market. Devaraj Kumar, Samruddi Shukla, Shobaraj, Tabala Nani, Cockroach Sudhi, Shivaram, Victory Vasu, Gym Ravi, Swapna Shettigar, Vanishri, Lakshmi, Sarika, Ritish, Raj Uday, Silli Lalli Anand and others are in the cast of 'Taj Mahal 2'.