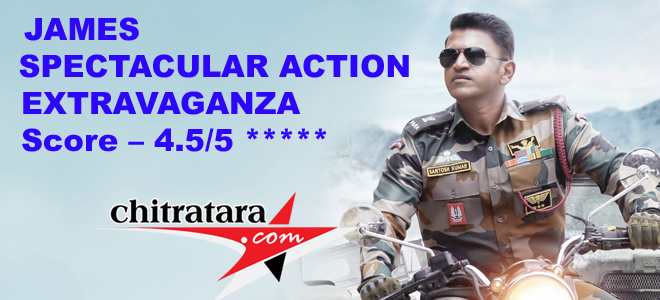 K. S. Vasu
Duration – 149.42, Category – Revenge Saga, Score – 4.5/5 *****
Title – JAMES, Producer – Kishore Pathikonda, Direction – Chetan Kumar, Music – Charan Raj, Cinematography – Swamy J Gowda, Cast – Dr Puneeth Rajakumar, Dr Shivarajakumar, Raghavendra Rajakumar, Priya Anand, Mukesh Rishi, Sarath Kumar, Aditya Menon, Srikanth, Rangayana Raghu, Avinash, Sadhu Kokila, Tilak, Chikkanna, Harsha, Shine Shetty, Padmaja Rao, Hamsa, Nayana, KS Sridhar, Ketan, Anu Mukherjee, Suchindra Prasad, Dattanna and others.
JAMES – is a Bharjari in style, Bahaddur in lavishness and action Bharate! The last action film of Power star Puneeth Rajakumar dipped in action, revenge, patriotism, emotion etc.
The voice of Dr Shivarajakumar for his younger brother Puneeth Rajakumar is superb and with many twists and turns in the narration director Chetan Kumar has reached to another height in his film career.
James is not just an action extravaganza but the patriotism of Major Santosh is also in the flashback. The demolition of drug mafia, human trafficking, terrorism, Rowdysm, Goondaism and all nefarious activity is the intention of JAMES.
Writing a review posthumously is difficult. We experienced such difficulty when super star Dr Vishnuvardhana passed away. Posthumously two of the films of Dr Vishnuvardhana were released – School Master and Aptha Rakshaka. Now we get to see the same situation from another super star in a young age, power star Puneeth Rajakumar.
Chetan Kumar 149 minutes narration is a well-driven film for a commercial producer. There is lavishness in every frame and we feel at many places 'Ayyo Devare….why did you take Appu. In fact in the Ashrama with five youths making a statement 'Devaru Kelavarannu Ishta Padthane, Adre Kelavarannu Bahala Bega Karkondbithaane….is so touching to the present scenario.
Dr Puneeth Rajakumar, the Karnataka Rathna action is mind blowing, dance is exhilarating, and acting is delectable. In fact, compared to previous films of power star Puneeth Rajakumar, the huge canvas is there in this film and four sets of three fall down in this film.
In the first half, J Wings Santosh is a terrific personality. He is heading the security agency. He works for a major assignment as security. His quick and intelligent ability is something exceptional. Nisha falls in love with Santosh. He does not have time for romance. In fact, there is not even a single duet song in this film. The goals and ambitions of Santosh are entirely different. He does not have time to romance.
Come to the second half for a major turn in the life of Major Santosh Kumar. He has high reputation in the Indian Army for his clever tackling of terrorists and freeing the senior Army officer. It is after this major attack by Major Santosh, he is on vacation. Hell breaks out in this portion.
In fact we get to know who is JAMES = It is Jagan, Amar, Madan, Ekanath and Santosh – (Chikkanna, Harsha, Shine Shetty, Tilak and Puneeth Rajakumar) friends grown up in Ashram and holding high positions and meeting on August 1 on Friendship day without fail.
For the huge loss in the life of Santosh the drug lords create havoc. As Major Santosh he is on a mission to destabilize all connected to it even at the national and international level.
It is time to watch further developments on the silver screen in a film that should not be missed out for various qualities it contains.
After the demise of power star Puneeth Rajakumar is haunting every day. After watching this film, he further haunts. The fans surely watch this film again and again because of the contents, treatment and performance.
Power star Puneeth Rajakumar has excelled in every frame. The matter of sympathy on the one side and the power packed film is a feast for a long time indeed.
There are forty to fifty well-known faces on the silver screen. The local actors (Avinash, Rangayana Raghu, Sadhu Kokila, Chikkanna, Tilak, Harsha, Shine Shetty) have the fine roles and all baddies are outsiders – Mukesh Rishi, Sarath Kumar, Aditya Menon, Srikanth to mention a few names.
The presence of Raghavendra Rajakumar with a few advisory lines and as Major Anand Raj Dr Shivarajakumar makes the moments very special.
The introduction song Dimaku Ella Bittaaku….Salaam Soldier …. Song and the background lines Mannu Mannu Yee Jeeva Mannu… touching and meaningful scoring from Charan Raj.
J Swamy Gowda cinematography is on top gear right from the first shot of 'James'. He deserves awards for his capturing style.
In the last few minutes of the film the shooting moments, the credits for the work done and the life history of Puneeth Rajakumar is a precise thought from director Chetan Kumar.
It is a lifetime cinema for producer Kishore Pathikonda. The grandeur, locations, costumes, technical aspects, number of days shooting all because the producer enters the pages of history for this Kishore Productions.
Go and watch JAMES – it is double Paisa Vasool for you. It is undoubtedly a family watch.