ASHWINI PUNEETH INSTITUTE 2 AWARDS
Posted date: 22 Tue, Mar 2022 09:17:53 PM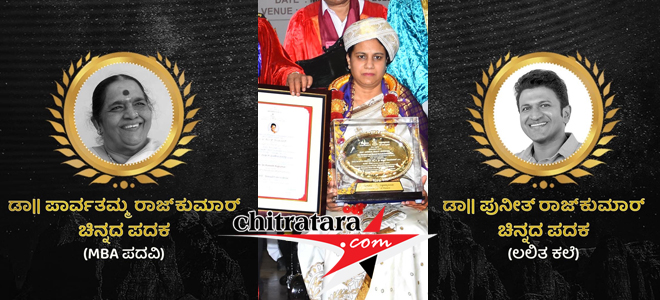 The lady in pall of gloom ever since the passing away of power star Puneeth Rajakumar – Smt Ashwini Puneeth Rajakumar adjusted her emotions and attended the function at Mysuru - honorary doctorate instituted by Mysuru University to her late husband Puneeth Rajakumar.
It is such a coincidence that 46 years later Puneeth Rajakumar got the award from the same university that honored doctorate to his father Rajakumar at 46 years of age and another coincidence is that after 46 years it is coming to 'Dodmane'.
Dodmane is the house the honorary doctorates are bestowed for Rajakumar, Parvathamma Rajakumar, Shivarajakumar and now for Puneeth Rajakumar.
After receiving the rare honor posthumously Smt Ashwini Puneeth Rajakumar stated that from next year for the best student in 'Fine Arts' Puneeth Rajakumar gold medal and in Business Management best student would get Dr Parvathamma Rajakumar gold medal.
At the 102 years Convocation at Crawford Hall in Mysuru University folk singer Malavalli Mahadevaswamy and Defense research senior scientist Dr Vasidev Kalkunte Athre received the honor.
Governor of Karnataka Thavarchand Gehlot presided over the function. As the name of Appu was mentioned, there was huge applause for the big screen screened clips of Puneeth Rajakumar from his childhood.
Dr S C Sharma, Mysuru University vice Chancellor Prof G Hemanth Kumar, Prof Shivappa, AP Jnanaprakash present on the dais.
Kannada Cinema's Latest Wallpapers
Kannada Cinema's Latest Videos
Kannada Movie/Cinema News - ASHWINI PUNEETH INSTITUTE 2 AWARDS - Chitratara.com
Copyright 2009 chitratara.com Reproduction is forbidden unless authorized. All rights reserved.