SHAMBO SHIVA SHANKARA AUDIO COMES
Posted date: 23 Wed, Mar 2022 09:20:16 AM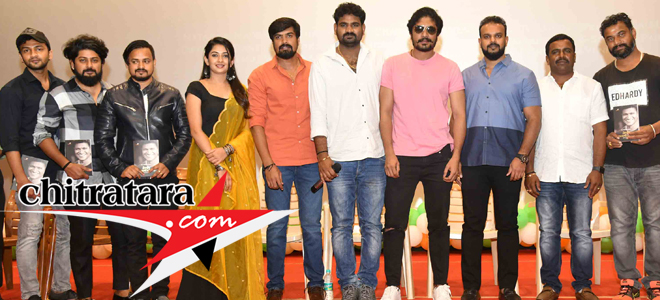 We have 'SSS' set for release. This is a movie started in September 2020 and the Corona Pandemic delayed in giving final shape for the team members.
However, SSS audio released by producer Varthur Manju in the presence of noted producer Umapathy Srinivasa Gowda and reputed actor Vasishta Simha at Kalavidhara Sangha. Shanker Konamanahalli is director of this SSS Kannada film.
Already Naveen Sajju, a state award winning playback singer song Naati Koli…is making good publicity for the film in the social media. The song penned by Ghouse Peer 'Nati Koli Nalli Moole Sarakane Elithale…. Item song was participated by Kiran of Rajasthan with three youths Abhay Puneet, Rohit and Rakshak. Meanwhile this is also an introduction song for the three heroes in the film. Kalai directed the steps for this song.
Director Shanker Konamanahalli thanked the producer and guests for releasing the audio of the film. Lyricist Ghouse Peer, actors Abhay, Rakshak and Sonal Monteri, music director Hitan Haasan, cinematographer Nataraju Muddala, dance director Kalai also spoke on this occasion.
The songs are released on Anand Audio youtube.
Veteran Shashikumar, Sonal Montero, Jogi Nagaraj, Pradeep Tipatur, Asha Sujay, Prema, Rohini, Sangamesh and others are in the cast.
The film title gives a feeling that it is a divine film. No, it is a suspense film with three characters – Shambu is Abhay Puneeth, Shiva is Rakshak and Shanker is Rohith.
The poster of this film SSS was released by Dolly Dhananjay and Vasishta N Simha sometime ago.
Kannada Cinema's Latest Wallpapers
Kannada Cinema's Latest Videos
Kannada Movie/Cinema News - SHAMBO SHIVA SHANKARA AUDIO COMES - Chitratara.com
Copyright 2009 chitratara.com Reproduction is forbidden unless authorized. All rights reserved.