YETHIRAJ MAYAMRUGA THRILLER
Posted date: 25 Fri, Mar 2022 11:41:20 AM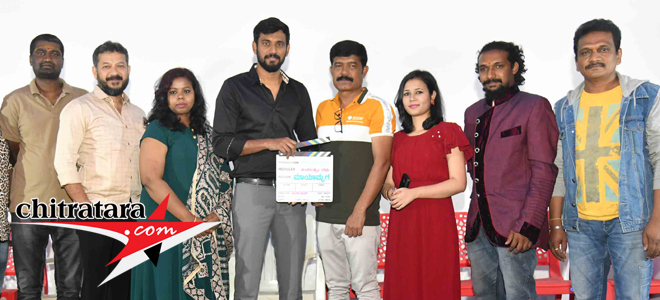 The third directorial venture of journalist turned actor, director and activist Yethiraj 'Mayamruga' after 'Seethammana Maga' is a crime thriller with suspense contents went on the floors at Renukamba Digital Theater on Thursday morning. Noted actor and director Darling Krishna was present at the launch of the film 'Mayamruga'. For the hard work of Yethiraj the popular actor and director wished good luck.
Yethiraj conducted muhurut of his film offering flower petals to the photos of Dr Rajakumar, Dr Vishnu, Dr Ambi, Shanker Nag, SR Puttanna Kanagal and Dr Puneeth Rajakumar.
Mayamruga has some reference to 'Maaya Jinke' of Sri Ramayana and we have set in 24 hours development on screen for this film. It is a suspense crime thriller and shoot is planned in Srirangapatna and Mysuru from April 5. Raj Kadur is cinematographer and one of the actors in the film Manju Srirangapatna and Rajanna assisting in finding locations for the film mentioned by Yethiraj.
Sonu Sagar is female lead and she thanked her mentor Yethiraj for getting her good opportunity and platform to progress.
Talented actor Aravind Rao, fed up with cop roles who rejected a cop role in challenging star Darshan film 'Kranthi' bid goodbye to cop roles committed to two films with his heard by compulsion agreed for cop roles to his friend Yethiraj without uniform. Yethiraj is a good writer but he has anger and I work for his friendship and this is my last cop role stated Aravind Rao.
Another senior TV journalist VCN Manjunath is appearing in a constable role in this film. According to him Yethiraj himself suits the title as he is a man with multifaceted talent and keeps changing platforms.
Producer Jayalakshmi taken up decision to make this film very quickly, Vinu Manassu is scoring music for two songs, Yathish Kumar is editor, Shashi is associate director and Manju Srirangpatna (brother of Nimishamba Temple Dharmadarshi) present at the muhurut of 'Mayamruga'.
Kannada Cinema's Latest Wallpapers
Kannada Cinema's Latest Videos
Kannada Movie/Cinema News - YETHIRAJ MAYAMRUGA THRILLER - Chitratara.com
Copyright 2009 chitratara.com Reproduction is forbidden unless authorized. All rights reserved.