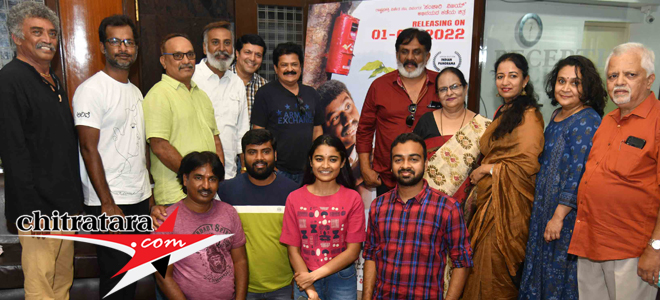 This 'Thale Danda' has nothing to do with Jnanapith Award writer Dr Girish Karnad 'Thale Danda' of early 1990 play. This Thale Danda said to be the last film of Sanchari Vijay (He has one more Melobba Mayavi to release) national award winning actor in a mentally retarded role using buck tooth, fighting in his capacity to protest nature is in the direction of learned professor of Mysuru University Praveen Kupakar. Dr Hemamalini Krupakar who is closely associated with the special children field is producer. Mamata Arun is the co producer of this film.
The film hit the silver screen first of April with half a dozen Kannada films screened at the Renukamba Digital Theater and it was very touching to the hearts.
It is about the human vs Planet in Krupanidi Creations, it has been a five years effort of the professor in making this film 'Thale Danda'. According to him fifty percent of nature, we have already destroyed. If we do not stand up in protecting nature we may have to pay a severe penalty, he says. In the remaining we have remained loyal he urges. The planning, making and implementing came up in his speech. Jagadish films are distributing the film.
Smt Mangala Rangayana Raghu is in the role of mother to Sanchari Vijay. It is in the Sanchari troupe of Mangala, Sanchari Vijay was a team member. On knowing that she should play Vijay mother Mangala was very happy. But the loss of Vijay is something shocking. He should have lived, he had dreams and a lot of work he should have taken up felt the leading actor on stage shaped many talents in 'Sanchari'.
'Natana' Mandya Ramesh is precise to address him because of the rich popularity he gained from his theater team. An MLA in the film Mandya Ramesh explained how he was baffled with the performance of Sanchari Vijay in a retarded role.
Ashok Kashyap, a leading cinematographer, stood behind the project with his camera, Hari Kavya has done four songs and nine bits for this film.
Veteran actor Ramesh Pandit is the one who suggested Mangala for the mother role when five names did not work out for director Praveen Krupakar. Chaitra Achara disclosed the soliga community and language learning points. Rajesh Rao, Natana Prashanth, editor Kemparaju present to express their experience working with 'Thale Danda'.
Thale Danda has already earned laurels at the national and international level participating in festivals. In one of the festivals cinematography by Ashok Kashyap bagged an award.