NATA BHAYANKARA AUDIO ARRIVES
Posted date: 27 Sun, Mar 2022 10:08:15 AM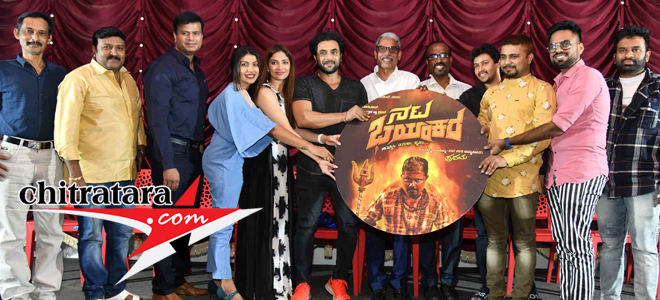 Olle Hudga Pratham, a talkative and enterprising person is in his third Kannada cinema. He is producer, director, writer and actor of 'Nata Bhayankara' a horror filled comedy film that came out with audio on Wednesday afternoon at Renukamba Digital Theater.
Kaala Raathri…sung by Raghu Dixit, Geetha Geetha Ganchali Geetha….sung by Sanjith Hegde and Ivane Nodo Shankara Nata Bhayankara…a title track sung by super star Upendra screened before the audio release formalities.
Sri Murali suffering from lower back pain made it to the event to bless Pratham and team. He released audio of the film and appreciated the capabilities of Pratham. He is the one who makes sound and does his work. I like his confidence, as mentioned by Srimurali.
DC Dayanand, Lahari Velu, Arjun son of Kumar Bangarappa, Girish of AiPlex anti piracy, actors Niharika, Chandana, Dr V Nagendra Prasad, music director Pradyothan, Dance director Nagi and others present at the event.
Taking a lot of responsibilities for 'Nata Bhayankara' actor cum director Pratham says when a man filled with ego how he behaves and how he is changed in the film. One is stupid super star and there is a blind Devva. There are senior actors like Sai Kumar, Shobaraj, Kuri Pratap and others. In fact I have less scenes compared to dialogue. King Saikumar admitted Pratham. He thanked producer Uday K Mehta for providing the story for this film.
I am a safe person doing this film. It is not in a scooter but while traveling in a car wearing a helmet I travel - that is the level of safety I worked out for this film says Pratham.
Pratham intends to release the film on May 13, 2022 all over Karnataka.
Kannada Cinema's Latest Wallpapers
Kannada Cinema's Latest Videos
Kannada Movie/Cinema News - NATA BHAYANKARA AUDIO ARRIVES - Chitratara.com
Copyright 2009 chitratara.com Reproduction is forbidden unless authorized. All rights reserved.