Posted date: 28 Mon, Mar 2022 10:43:25 AM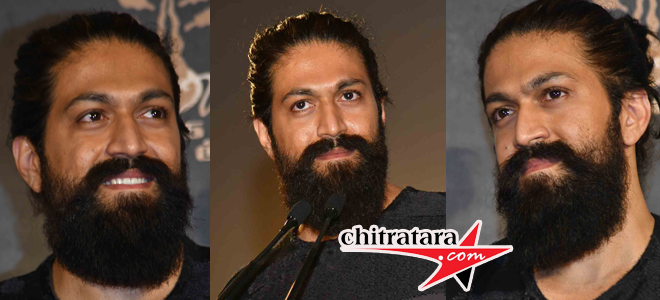 The rocking star was in his extraordinary power in the new trailer of KGF 2 and the dialogues for him are making mega sound now.
'Violence, Violence and Violence, I do not like Violence, Violence Likes me' Let us do business offers closes soon… with stunning stunts and mind blowing cinematography and technical excellence this KGF 2 conquers the attention.
Yash later said normally I am not nervous but today felt a little bit. He said Appu is unforgettable and I saw Appu in Shivanna. He started for thunderous applause.
From Appu Ninnindale 'Hombale Films' got an entry to the cinema field and made three films later. I cannot see Shivanna crying after the passing away of lovely Appu. We miss you, Appu Sir told Yash at the beginning of trailer release event. Appu is living with all of us in hearts and Shiv guidelines I follow, he added.
Let us all burn 'Woods' and come together as Indian cinema Yash further stated World is my Territory concluding his speech.
I am attached to the cinema Industry. Because of Vijay Kiragandur KGF happened with one and two in the last eight years. This is definitely Prashanth Neel film, a lot of first timers are in this film and they have worked like professionals and for that credit should go to Prashanth Neel. The sets and light boys of this film worked. We will not get anywhere. Yash thanked the Mumbai distributor Anil Thadani who watched eight hours of the film, last time Tamil actor Vishal took rights to the Tamil version now Prabhu is the distributor.
Yash turned his attention to Ravina Tandon and said she is stunning and fabulous. Sanjay Dut sir I witnessed a real fighter in you, he calls me as his Bhai and it is a proud feeling. In the film, there will be my 'Hava' in the end. Srinidi Shetty is luckiest because in debut she got five languages but she dedicated six years of her career. Malavika and Archana Jois brought fine value to the film. I should thank my designer Sania and fitness trainer Kitty said Yash.
What I would like to say for my fans is that they can say 'Ede Tatti can tell this kind of cinema has not come.
Kannada Cinema's Latest Wallpapers
Kannada Cinema's Latest Videos
Kannada Movie/Cinema News - VIOLENCE LIKES ME – YASH - Chitratara.com
Copyright 2009 chitratara.com Reproduction is forbidden unless authorized. All rights reserved.