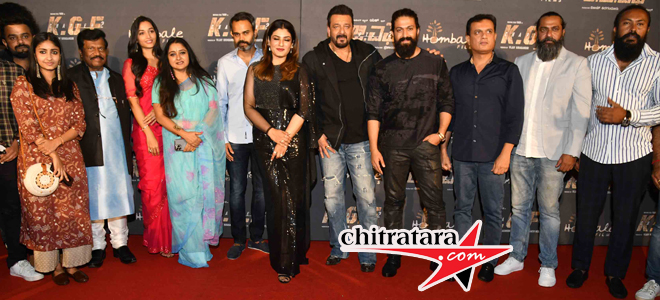 The Magnum Opus set for release on April 14, 2022 KGF 2 has come out with a marvelous trailer of 2 minutes and 59 seconds in Kannada, Hindi, Tamil, Telugu and Malayalam languages on Sunday evening at exact 6.40 pm at screen No.5 of Orion Mall in the presence of bigwigs.
The presence of five languages media, topnotch director from Hindi cinema Karan Johar handling the anchor task with local talent Anushri was highlight on the one side, and on the other side the Karnataka Minister Dr CN Ashwath Narayan, Dr Shivarajakumar, distributors of Hindi version Anil Thadani, Ritesh and Farhan Akthar (on a video message), Telugu distributor Sai Korapati, Tamil distributor SR Prabhu, Malayalam distributor Pruthvi a famous actor too and beautiful Radhika Pandit present on the occasion at the trailer launch of the film.
What is KGF 2 trailer about – this 2 minutes 59 seconds trailer is mainly on the power of characters such as rocking star Yash, Sanjay Dut, Srinidi Shetty, Raveena Tandon, Prakash Raj, Malavika Avinash, Archana Jois and others in an action filled sentiment portions.
This is the largest moment not nationally but globally, it is a cinematic marvel, it is the power of Hombale films, the dream of the entire team, mentioned Karan Johar, ace director.
Dr Shivarajakumar Karunada Chakravarthy released the Kannada 'KGF 2' trailer at exactly 6.40 pm. He explained he has immensely liked the trailer. Picking the dialogue of his OM film, he said I love you, you should love – that means all of you should love watching KGF 2 he stated. Violence, violence and that has silence later he observed. Yash is a very handsome actor in our filmdom. After Radhika Pandit coming to his life luck added more and he is our family member stated Dr Shiv.
Dr CN Ashwath Narayan stated that the making of trailers is on par with Hollywood and via entertainment, it is possible to conquer the whole world. This KGF 2 should create a new mark and I have seen team members toiling for years. Yash feels his life is like cinema, Neel is highly confident and extremely good, I am present today for the KGF 2 trailer as I love cinema very much, pointed out the respected Karnataka Minister of IT and BT Dr CN Ashwathnarayan.
Watch for what others told in nearly two hours of the KGF 2 trailer release event in this www.chitratara.com