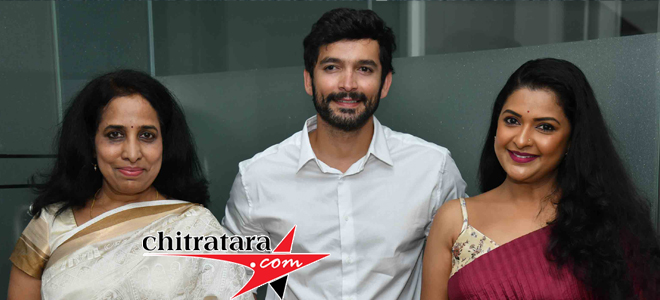 Some discerning filmmakers wait and make careful steps. Among a few such personalities are Brinda Muralidhar a Canada living Kannadiga from Mysuru district with vast knowledge in theater and the local talent Jayasri Raj, actor in small and big screen who is also producer of a few mega TV serials.
Brinda Muralidhar hailing from Mysuru evolved '1 Can Media Creations' and back home Jayasri Raj set up JM Productions to launch the Kannada film 'Anthu Inthu' (remember the song line of Power star Puneeth Rajakumar and Parvathi Menon starring Milana Kannada film).
Brinda Muralidhar is joint producer and director of her second film. In the past, she directed 'Knot Knot' that won many awards. According to her, this is 'A romantic International family dramedy', the emotions saga has a thriller and all twists relate to the protagonist of the film Diganth. When this subject was decided the first actor that came to mind is Girijamma – Girija Lokesh she says. She is the soul of the film; relationship, joy etc are part of this role. She comes from Mandya to Canada in the film 'Anthu Inthu'.
Jayasri Raj a potential actor turned producer in small screen with a career spanning 24 years says this is an emotional film and it is narrated in different patterns. 80 percent of shoots will be held in Canada and remaining in Mandya she adds.
Diganth is the protagonist, he moves from Mandya to Canada, marries a Canadian girl, and it is quite interesting he says. Ravishanker Gowda portions are in Mandya surroundings in this film.
The major portions of the film focus on Girija Lokesh, a talented veteran in her 70 plus age who says she is averse to the cold atmosphere in Canada and a doctor is accompanying her. She is very happy with women power, adding good substance oriented films.
Shanker Patil, Karnataka Sugar Minister, was present at the formal announcement of the film on Monday evening. Saurav Kulkarni conducted the formal announcement event of 'Anthu Inthu' at SRV Theater.