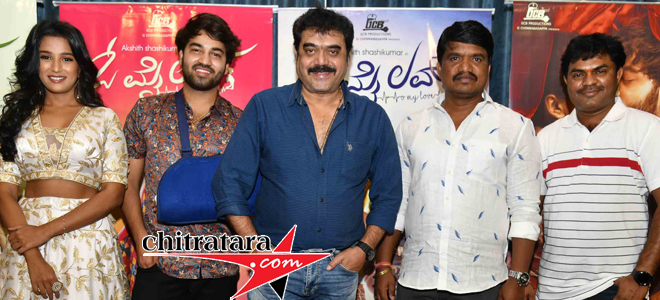 The debut film of veteran actor and former MP Shashikumar son Akshit Shashikumar `O My Love` in GCB Productions launched in January 2021 is ready with shooting and post production is going on.
Director Smile Sreenu organized the song En Aitho Kaane Hegaitho Kaane Tangali Saridanthe….promo release at SRV Theater on Monday. Noted actor Shashikumar graced the occasion and released the song promo.
Speaking on this occasion Shashikumar stated that I have advised my son to work hard and be sincere. I had not been to the sets of this film. I also told him to observe the proceedings of the film to know various things. Learning never ends in life. It is like the ocean. In my career of 33 years the media supported me very well and I would request all of you to encourage my son, he said. I do not interfere in my son`s career. So far I had seen once dancing in front of the mirror in the house.
Asked on the first film `Modave` the debut of Shashikumar son who was Adhitya in September 2018, he said it is a closed chapter and this one `O My Love` is debut film. But Adhitya as Akshit acted in `'Seethayana` in August 2020.
However, this film `O My Love`in Smile Sreenu direction (fourth film of director) has a story from producer G Ramanjini, a Ballari mine merchant and transport businessperson. Dev Gill is an antagonist, S Narayan, Sadhu Kokila, Pavitra Lokesh, Prithvi, Ningaraj, Suvedh and others are in the cast.
Akshit has definitely kept up the image of his father in this art field with the confidence of producer and story writer G Ramanjini. He has been in the mining business in the last 15 years.
In Bengaluru, Bhopal, Orcha, Khajurao and other locations shoot was held and it is at post production stage informed Smile Sreenu.
After Industrial Engineering Akshit worked for a few months and then expressed his wish with his mother. Now working as the hero in this film, I spent time attending workshops. This film has all the ingredients of a commercial cinema, he says. There are four action portions and the songs are melodious, he says. Akshit thanked Real Satish stunt master and there were some dangerous moments he admits.
Keerthi Kalkeri, granddaughter of Sanadi Appanna, has two shades – she is college going and then homely role and I have performed in three songs, says Preethi in the film. Workshop done for the film helped a lot as she adds on the highlight of her second film in the career.
Halesh is cinematographer, Charan Arjun scored music for the lyrics of Dr V Nagendraprasad, D Malli is editor and Murali is dance director of this film `O My Love`.