PRASHANTH NEEL YASH IS LIKE CELL PHONE
Posted date: 29 Tue, Mar 2022 09:41:14 AM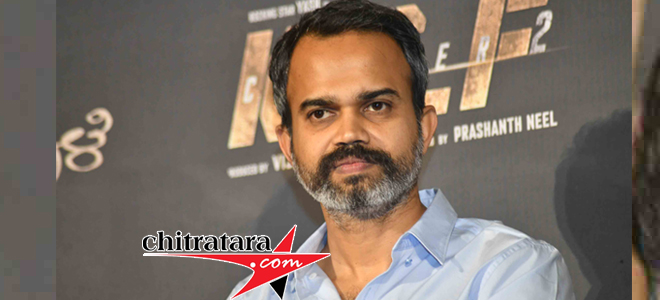 The eight years long journey for KGF 1 and KGF 2 director Prashanth Neel was in complete control at the address on Sunday evening. He showed his exemplary skill in the sequel to KGF Part 2 and at the same time exhibited his presence of mind remembering everyone connected to the cinema.
I have the best technicians in the world; Ujwal was 17 years old when he joined our team. He is 20 today. Ravi Basrur comes up with a technologically advanced studio in his village Basrur, I want to do something like him in my village. Neel continued his speech further saying "I have not done anything for the market". The story demanded the artists and technicians I selected. Srinidi Shetty has a major role compared to KGF 1. There is Nagabharanaji part of the film. There is Karthik Gowda who gave the first job to me; my producer is not great but greatest.
After 14 April 2022, you will know why Yash is a Rocking star. In fact, he had written dialogues for the film. He is like the latest cell phone with many features. He is a modern day cell phone. He has the best temperament, nurtures everything. This cell phone makes me very proud and happy. I dedicate this film to Appu Sir, I have done justice and dedication is seen in the film he signed off.
Kannada Cinema's Latest Wallpapers
Kannada Cinema's Latest Videos
Kannada Movie/Cinema News - PRASHANTH NEEL YASH IS LIKE CELL PHONE - Chitratara.com
Copyright 2009 chitratara.com Reproduction is forbidden unless authorized. All rights reserved.