IS AMITABH BACHCHAN IN SRI SHIVAKUMARA SWAMIJI ROLE?
Posted date: 30 Wed, Mar 2022 09:00:44 AM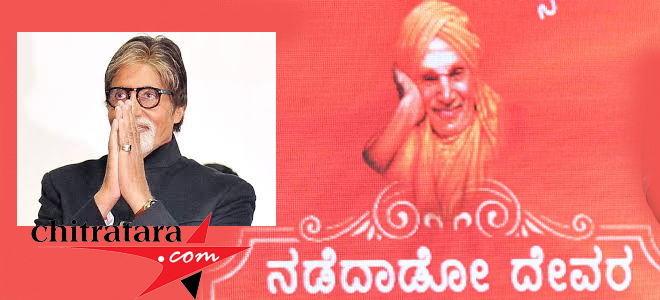 The pride of Karnataka and nation is Sri Siddaganga Shivakumara Swamiji considered as 'Walking God'. He lived for 112 years and left for heavenly abode in 2019. 'Tridasoha' of Sri Shivakumara Swamiji with over 10000 children with education, shelter and food is impeccable work continuing even after his departure.
Now a biopic in 52 episodes of one hour each 'Nadado Devaru' BASAVA BHARATHA is the brainchild of Nadabrahma Hamsalekha and Rudresh launching on April 1 at Siddaganga Kshetra Tumakuru district. The union Home Minister and Cooperative minister Amit Shah is gracing the occasion.
For the pivotal role of Sri Shivakumara Swamiji of age 98 to 112 Amitabh Bachchan the tower of Indian cinema was consulted but the nod has not come. According to sources at Hamsalekha and producer Rudresh there is a chance of Amitabh Bachchan giving acceptance provided his health condition is fine.
We are hoping for Amitabh Bachchan to return to good health and invite him for the prominent role of the biopic 'Basava Bharatha' , says Hamsalekha addressing the media on Tuesday night at GoldFinch Hotel.
Amitabh Bachchan the pride of Indian cinema acted in Kannada film in a small role in 'Amritha Dhare' a super hit film of Nagathihalli Chandrasekhar. The doyen of Indian cinema Amitabh Bachchan in fact had a rebirth after he met with an accident while shooting for 'Coolie' Hindi cinema.
Whether Amitabh Bachchan is going to accept the offer time will decide.
Kannada Cinema's Latest Wallpapers
Kannada Cinema's Latest Videos
Kannada Movie/Cinema News - IS AMITABH BACHCHAN IN SRI SHIVAKUMARA SWAMIJI ROLE? - Chitratara.com
Copyright 2009 chitratara.com Reproduction is forbidden unless authorized. All rights reserved.