NADA GEETHE BY MAHENDRA MUNOTH AND TEAM
Posted date: 30 Wed, Mar 2022 09:09:33 AM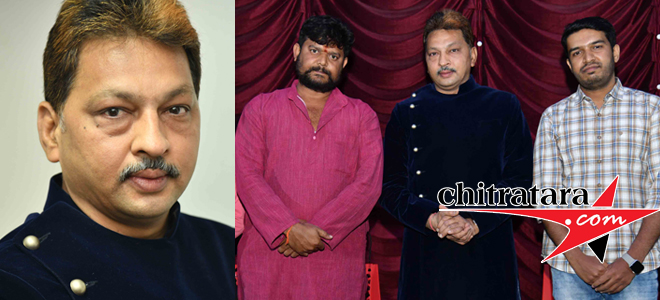 The prominent personality of Karnataka especially Bengaluru, multifaceted Mahendra Munoth proprietor of Maruthi Medicals, known for his patriotism, Kannada language affection, for his service to the society, concern for cow protection, film actor, producer etc comes up with 'NADA GEETHE' in two versions album song.
The reason why Mahendra Munoth took up 'Naada Geethe' is that he was irked with a recent 'Naada Geethe' of Rashtra Kavi Kuvempu he heard. Tampered and sliced when he heard at a function in Chowdaiah Memorial Hall.
Pooling a lot of young talents, Mahendra Munoth prepared the new 'Naada Geethe' with all due respect to the song and rich cultural heritage of the country in the song 'Jaya Bharatha Jananiya Thanu Jaathe….. 'Navikarana Apamana Agide' is what MM described addressing the media on Tuesday afternoon at Sri Renukamba Digital Studio. This song 'Naada Geethe' is free on social media. Mahendra Munoth looks very bright and fits the memorable song. He has that build, look and pleasure watching him.
The voice of Ajay Warier to this Naaada Geethe has added additional boon, Vijay Krishna D composed this song and BP Hariharan directed this song in four days. He thanked his friends Hampi Maheshwar and Gajendra for support. He is expecting this to be a milestone.
Vijay Krishna first thought of this song when Dr SPB was living in 2020. He heard the song and given dates by Corona Pandemic did not allow dream to materialize. Then Ajay Warier consulted for this 'Naadageethe' he remembers. Pavan Jeeva is art director for this album song. He was waiting for this kind of song in his career to happen.
At the launch of 'Naada Geethe' that features Mahendra Munoth in different looks and costumes the new idea of helping out the poor children to get benefit of the Art field was floated.
The Mahendra Munoth Art Academy – VIIP – Victory for Indian Poor People was launched. This Academy picks up the talent who are poor and not able to get the right platform to exhibit talent. This talent hunt would place several kids to prosper in the field of their liking, says Hariharan.
Kannada Cinema's Latest Wallpapers
Kannada Cinema's Latest Videos
Kannada Movie/Cinema News - NADA GEETHE BY MAHENDRA MUNOTH AND TEAM - Chitratara.com
Copyright 2009 chitratara.com Reproduction is forbidden unless authorized. All rights reserved.