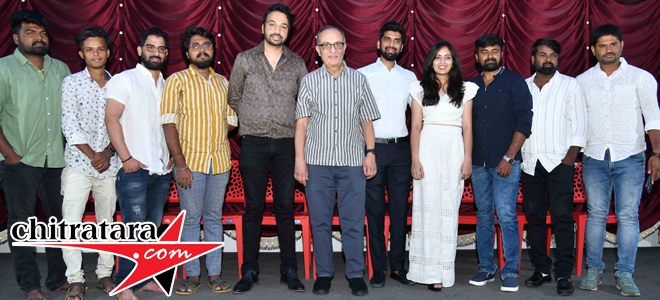 The stalwart music director Mano Murthy is back again in `Sambhrama` with ten songs in it. Mano Murthy Music youtube will be presenting all the songs of this film by director Sri Sambhrama. It is `Shubakruthu Samvatsara Sambhrama` for the team members now.
One of the ten melodious songs Ninna Naa Kandu Nanna Olade Ide Modala Sihi Sambhrama….sung by Chinmayi Athreya and Supriya Acharya for the lyrics of Chinmayi Bhavinakere screened before the media meet at Renukamba Digital Theater.
There was one `Sambhrama` Kannada film in 1999 by Mahesh Sukhadhare starring Ramesh Aravind and three sister characters playing prominent roles. This 2022 Sambhrama is with four youths. Natural feel for the audience would get watching this film shot with Sync sound. Songs elevate the situations, observes youthful director Sri Sambhrama. The 5.1 work is going on for the film. The shoot was held for 47 days at Hosapete, Gangavathi, Sindhanoor and Thungabhadra backwater and it is a good film, says the director. There will be one character that represents Shankar Nag the legend, the four characters in the film will be having three shades in the film.
The master of melody Mano Murthy scored music for 10 songs in Moggina Manasu and it is after 14 years he has composed music for 10 songs. Nine singers have delivered, there is a children chorus, two female choruses, there is an English song penned by an American writer.
Chinmayi Bhavinakere the promising lyricist of Kannada cinema today was waiting to write a song for the composition of Mano Murthy and it happened to be his `Sambhrama`.
Well known singer Chinmayi Athreya present at the `Sambhrama` first media meet said he has been following Mano Murthy for over one and half decade, his humility and passion is impeccable he said.
Ridhi, a software engineer, is making debut and says she is in 20 minutes on screen. Thejas is an editor making debut and he has not worked with anyone.
Ravi is the promotional head who has conducted 280 events so far hoping for good for the film.
Phoenix Production film Sambhrama is in the production of Anil Raj Sanketh and Umesh L Dharmasri. Veerendra Shetty, Abhay Veer, Ridhi Rathore, Kiran Kumar, Yashwanth, Raghavendra, Spoorthi, Savitha and others are in the cast.
Jayanth Kaini penned three songs, Chinmayi Bhavinakere, Veerendra Shetty, Sri Sambhrama are remaining lyricists of this film.
Vinay Kumar SVK and Manjunath Hegde wielded cameras and the first song of the film is available for the Ugadi festival time.