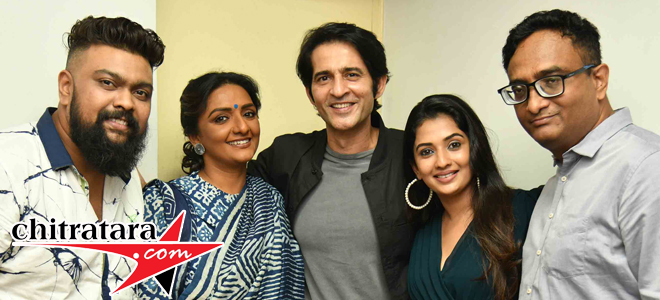 The young and talented music director from Chandanavana Vinay Chandra son of well known journalist Late Sureschandra is on a nation watching subject in the biopic film on first nightingale of India Sarojini Naidu a multifaceted personality of Indian freedom movement.
For Vinay Chandra the zoom and zeal is multifold because of a very talented team he has already built. The adolescent role of Sarojini Naidu is played by Ankitha Jayaram, teenage role is performed by highly talented Sonal Monteri and the forties role till the life of Sarojini Naidu is performed by famous actor from south India Shanthipriya who is returning to acting fold after 28 years of exile. Sarojini Naidu on Indian silver screen in Kannada and Hindi languages is gearing up for production soon.
On the contents needed for the film a veteran writer Dheeraj Mishra doing research from 14 books, traveling to various locations meeting people arrived at the authentic 300 pages script. Vinay Chandra and team members worked on this for six months before coming to the media on the pride project.
Dheeraj Mishra says as a young girl topper in her schools Sarojini goes to London for studies with the help of Nizam of Hyderabad, she was aware of 14 Indian languages and a terrific singer, with high fever she even participated in Salt Movement. She faced imprisonment for her freedom struggle.
The popular TV actor in Hindi Hiten Tejwani, handsome looking and proven artist is performing Sarojini Naidu husband role of Govindrjulu Naidu. This biopic is going to unravel various untold facts, hopes Hiten. The husband role is also a very prominent character in the film, says director cum music director Vinay Chandra. Hindi cinema popular face Zariha Wahab is on board in this film.
Charan Suvarna is producer of the film with Hani Chaudhary from New Delhi. Kulkarni of VISICA is joint producer while Hemanth Gowda is looking after Karnataka territory for business. Srinivas Gowda is attached to the production of this film 'Sarojini'.
Anil is editing this film and also doing cinematography, Dhanu is composing dance, Ramesh Bhandari hoping for Telugu rights of this film present on the dais.
Vinay Chandra considers Sarojini Naidu as a ray of hope and strength. He is in touch with Rangayana Raghu, famous Kannada actor for the role of Sri Gopal Krishna Gokhale and it will be approximately 50 days long shooting, Vinay Chandra says on his prime film in life.