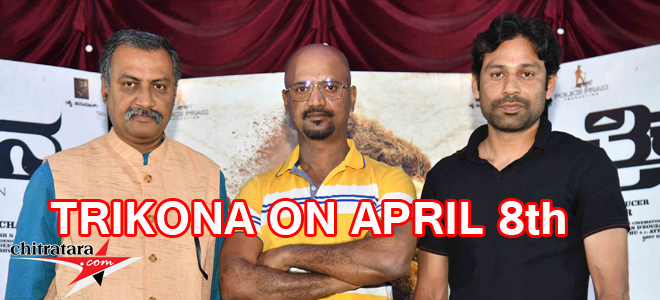 Coming in the rush of Kannada films would obviously lead to various complications. To avoid coming among other six Kannada films (including Banjara film), producer Rajashekhar has taken the right decision in deferring his well thought out film 'Trikona' release by one week.
Knowing the theater issues and not putting the audience in confusion, producer Rajashekhar is releasing the multilingual film 'Trikona' on 8th of April. He had earlier announced the release for April 1st.
Trikona directed by intelligent director Chandrakanth stars veteran actors Lakshmi, Achyuth Kumar, Suresh Heblikar, Sudharani, Maruthesh, Rajiv and others.
The director of three meaningful films `Amruthavani`. ` Barfi `and`Parole`Rajashekhar is story writer and producer of `Trikona`. In Kannada, Telugu and Malayalam languages the film is hitting the silver screen. Kannada version of 2 hours 10 minutes and slight change in screenplay for Telugu and Tamil are ready.
The film is Trikona because `Patience, strength and Ego` are discussed in this film. At the end of the day it is `Patience` that is the winning point.
Maruthesh 6 feet one inch 105 kilograms macho man is both antagonist and protagonist of this film. He hails from Ballari – Mr India and Mr Karnataka winner in bodybuilding. Rajeev has the capabilities that you find in Tony Jaa and appeared for the first time in Kannada doing various stunts and acting.
There are three families also in the meantime. Suresh Heblikar and Lakshmi, Achyuth Kumar and Sudharani and Rajeev. When all three in different vehicles are on highway the troubleshooter is Maruthesh who comes in a unique vehicle.
DOP is Srinivas. Thirumalesh is editor. Surendranath has done music.