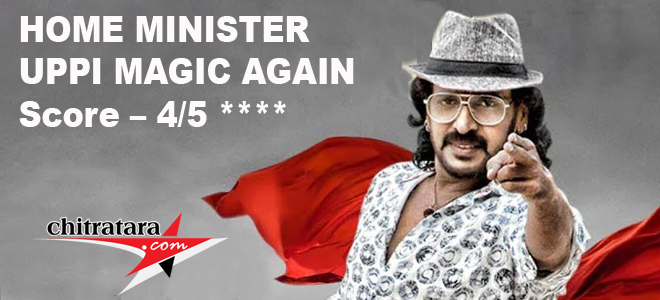 Duration – 140 minutes, Category – Family drama, Score – 4/5
Title – HOME MINISTER, Producer – Poorna Naidu, Direction – Sujay K Srihari, Music – Ghibran, Cinematography - Kuntani S Kumar, Cast – Upendra, Vedhika, Tanya Hope, Suman Ranganath, Sadhu Kokila, Srinivasamurthy, Sudha Belawadi,Avinash, Tilak, Vijay Chendur, Baby Adhya, Lasya and others.
This is a wholesome entertainer for the family for its lovely contents and the new evolved idea to the society is something exceptionally good. For the image of superstar Upendra and the message coming from top actors applied in the society this will be a very good social work from this film team.

Our Home Minister is the husband for a change and it is Upendra in this case. He has a child (Baby Adhya) and wife Vedhika is a journalist. At the outset, he is helping with the dream of his wife. He is friendly to all other women in the apartments. One of the women, a dupe played by Suman Ranganath, shocks everyone and runs away with money. The huge money is now the issue. Without knowing his wife Upendra is also trapped. The carefully kept money for the operation by Srimathi Upendra is also locked.
For this reason in the reality show Upendra changed, got up as a woman and participated. It is a roaring success for the television channel and the hitch comes at the semi finals. Some more turns of events keep the audience engaged and the touching moment is when a great work of Upendra is revealed.

Upendra has given a brilliant performance at home, a reality show and he keeps the audience engaged throughout the film.

Vedhika as Uppi`s wife and journalist is fine, baby Aadhya is brilliant, Srinivasamurthy in a short presence steals the show and so are Sadhu Kokila and Vijay Chendur.

One of the songs of Ghibran Summane….is very melodious, and cinematography in top order elevates the film. The dialogues penned by Dharmendra are very apt and touching.

This is necessary to watch for a few interesting elements in it.