VIKRANT RONA ON JULY 28 TEASER ON TOP
Posted date: 03 Sun, Apr 2022 01:49:48 PM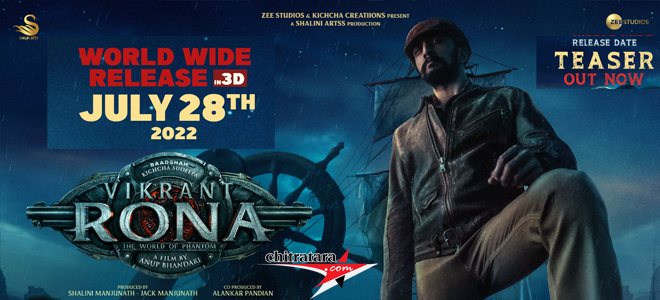 For the 'Shubakrith Samvatsara' Ugadi festival day the magnum opus of Abhinaya Chakravarthy Kichcha Sudeep 'Vikrant Rona' a Pan India film released the teaser and the children in it gives a good mood and 'The Devils Arrival' has created lot of hype. The children speaking in English and the background and super entry of Kichcha Sudeep gives a feel of Hollywood style of making from director Anoop Bhandari for the mega production of Jack Manjunath and others.
Releasing the teaser 'Vikrant Rona' release date for 3D announced as July 28 and it is another magnificent treat in the wait.
The beauty of this special teaser of 'Vikrant Rona' release is that in Hindi Salman Khan, Telugu Mega star Chiranjeevi, in Tamil Simbu and in Malayalam Mohan Lal all super stars released in their languages of cinema.
Kichcha Sudeep led the star cast with Nirup Bhandari, Neetha Ashok, Jacqueline Fernandez Ravishankar Gowda, Madhusudan Rao, Vasuki Vaibhav and and others. It is produced by Jack Manjunath, Shalini Manjunath, co produced by Alankar Pandian (Invenio Films)Presented by: Zee Studios and Kichcha Creatiions Production House: Shalini Artss, Music and Background Score: B Ajaneesh Loknath DOP: William David Production Designer: Shiva Kumar J Editor & DI Colorist: Ashik Kusugolli Dialogues & Lyrics: Anup Bhandari.
In English, Kannada, Telugu, Malayalam, Tamil and Hindi languages 'Vikran Rona' is getting ready.
Kannada Cinema's Latest Wallpapers
Kannada Cinema's Latest Videos
Kannada Movie/Cinema News - VIKRANT RONA ON JULY 28 TEASER ON TOP - Chitratara.com
Copyright 2009 chitratara.com Reproduction is forbidden unless authorized. All rights reserved.