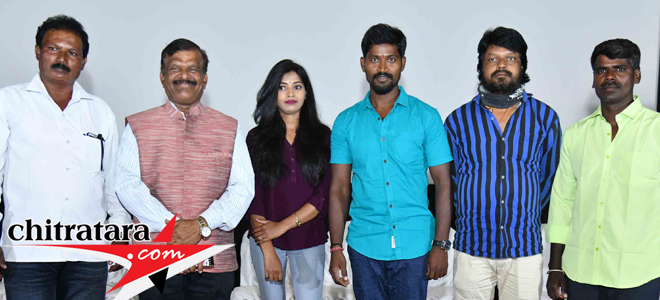 Here is a love story of teenagers and the aftermath of it in the environment they are living is told in 'Onduralli Ond Love Story' – At the Chamundesware Studio the film songs were released and small screen popular face Ashwini graced the occasion to bless the new team. Senior directors GK Mudduraj, Sudhakar Bannanje, Hanumanthaana Vinol present among the guests on this occasion.
The director of this film caught hold of various complications of lovers at the studying age and this obviously holds a mirror to society.
Benne Dose city resident, a literary personality, lawyer and theater actor Dr Revanna Ballari is producer of this film in Sri Veerabhadreshwara Cine Combines. He has also acted as principal of the institution in this film. K Prakash is co-producer of this film.
Apparently, this film is showcasing 'Putra Vyamoha' as actor Prithvi is the son of the producer. Arkalgud MP Arun wrote the script, lyrics and directed this film. This film Onduralli Ond Love Story has the caption 'Ide Nam Life Story'. The school-going children falling in love is nothing but infatuation. The attraction of that age is love, and in this film, the caste coming in the way of love is focused. The lovers understand that parents are important, a good realization of that age. Director further addresses on the screen that at the right age falling in love is not wrong.
Pallavi from Kalasa is the female lead, Mamata and a few new faces are also part of this film cast. For six songs AM Neel composed music, Ravi is cinematographer, Jeevan editing, KJ Swamy lyrics, Suresh dance, Babu Khan Art, Kaurava Venkatesh stunts part of technical team.
The shoot for this film was held at Davanagere, Hubballi, Kotturu, Kariganuru, Kanchikere and other locations. The film is getting ready for release in theaters soon.