IT IS SIMHAVALOKANA GROWTH OF VASISHTA
Posted date: 06 Wed, Apr 2022 06:26:28 AM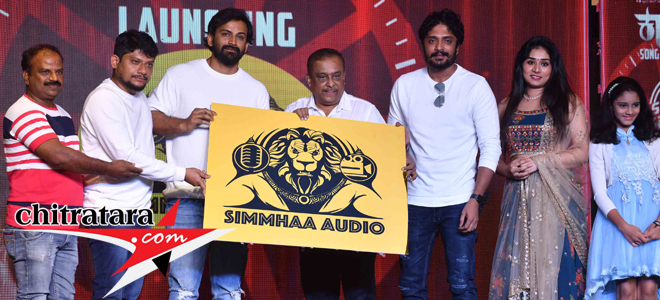 A stalwart today with perseverance, patience and putting effort Vasishta N Simha has come up with a new area of his professionalism. That is the evolution of 'Simhaa' audio. It is also in the name of 'Mane Devru' this audio went public on Tuesday afternoon with Vasishta N Simha best friend Dolly Dhananjay and Nada Brahma Hamsalekha on stage for 'Kalachakra' audio event at Lalith Ashok Hotel. This is the film that has four shades for Vasishta N Simha.
The first song from Simhaa Audio was unveiled on April 4 at 6 pm. Neene Beku…..song composed by Gurukiran for the lyrics of Kaviraj and it is sung by Sanchit Hegde. Vasishta N Simha`s love of singing in fact brought him to the arena of film music audio house. A multilingual actor today Vasishta N Simha had sung a few songs for films like Kirik Party and Dayavittu Gamanisi Kannada films.
Vasishta N Simha would like to give more opportunities to the new talents in his 'Simhaa Audio'. He considers Hamsalekha as Dronacharya in his life and saves his number in the same name.
'Kalachakra' in Sumanth Kranthi direction and production set for release and it has surpassed two years of slogging in the cans. Raksha, Suchendra Prasad, Deepak Shetty and others are in lead roles.
Making a film for the first time in Rashmi Films producer cum director Sumanth Kranthi stated that he is very happy for Hamsalekha, my mentor coming to the event. He said the film, filled with suspense, thriller and commercial elements, is at post production stage. The idea for this film cropped up when I was in the commissioner of Police office he stated.
Dolly Dhananjay wished his friend, an angry young man on screen more growth of producer and director in cine field. We both completed engineering and having done a film 'Tagaru' the phase is beyond expectations he says.
Raksha, the female protagonist in the film, was very happy for the song release and appreciated the growth of Vasishta N Simha – ambition to grow as a singer; he is well known actor today. This film 'Kalachakra' has interesting contents, she stated.
Santosh Naik and Chetan Kumar are the other lyricists of this film. LM Soori worked behind the camera and Sounder Raj is editor of this film. BA Madhu penned dialogues, Different Danny worked on stunts and Murali is dance director.
Kannada Cinema's Latest Wallpapers
Kannada Cinema's Latest Videos
Kannada Movie/Cinema News - IT IS SIMHAVALOKANA GROWTH OF VASISHTA - Chitratara.com
Copyright 2009 chitratara.com Reproduction is forbidden unless authorized. All rights reserved.