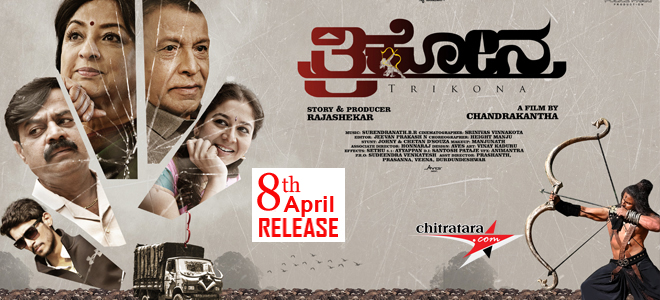 A film with solid screenplay and solid contents from experienced director turned producer Rajashekhar with an equally brilliant director (of `143` Kannada film with a lot of specialties) Chandrakanth is hitting silver screen on Friday 8th of April in a limited theater set up.
Producer Rajashekhar showed his class thinking by deferring the film release to 8th April instead of 1st of April and the affection was towards `James` that was running superb in the theaters of Karnataka. Rajashekhar himself a director of three films given opportunity to director Chandrakanth also speaks of his noble thought.
With three stages of life: childhood, youth and aged, the team worked on the contents such as`Patience, Strength and Ego`.
The familiar actor such as Lakshmi, Sudharani, Suresh Heblikar, Achyuth Kumar, Sadhu Kokila, Maruthesh, Raj Veer, Baby Aditya, Hasini, Manadip Rai, Rockline Sudhakar and others part of the cast of this film that has raised hopes among the discerning film goers.
Trikona in Police Praki Production headed by producer Rajashekhar has music from Surendranath BR, Srinivas Vinnakota is cinematographer, Jeevan Prakash is editor, Vinay Kadur is art director and audio is released in A2 Music.