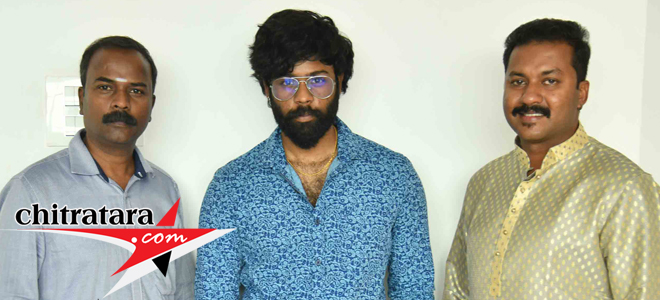 This Ganeshan K – writer, director, producer, actor, ad filmmaker etc a multi talented personality with a journey of 30 years in cinema in his 16th film for his son Subhash as debut hero has come up with interesting songs and trailer in 'PRITSU'.
This 'Pritsu' Kannada film is a top film for Ganeshan because of the presence of stalwart music director Maestro Ilayaraja, music composer of over 1000 films in Indian cinema. This film 'Pritsu' has the presence of Ilayaraja for a few minutes on the silver screen.
Ganeshan 'Pritsu' songs 'Gombe Gombe…(very melodious and best of the lot), Kodu Kodu Theertha Kodu….Appa Ninna Lokane Kande….(Very touching song) screened and got good applause for the trailer released on this occasion. The three lyrics for this film 'Pritsu' penned by Dr V Nagendra Prasad is another major feather in the cap of Ganeshan.
Music maestro Ilayaraja in a video message expressed his inability for not making it to the event of audio release. The video clip of Ganeshan, another cherished project 'Namma Magu' getting the UNESCO award screened on this occasion showed the growing signs of the go-getter Ganeshan.
Jnanavinothini Selvakumaran producer of 'Pritsu' had come all the way from Malaysia for this event thanked Ganeshan for directing the film and he hopes for good results for the film.
Ganeshan going on a flashback said Prabhakaran Movies, his home banner made 16 films so far from 'Asha Jyothi' in which four are Tamil, 2 are Telugu and one is Hindi. According to him, 'Kannadigas are Balaha Ollevru but Kopa Bandre Kettavaru'. On his 40 times journey to foreign countries Ganeshan said he wanted to make films in the father of cinema America. He achieved it by sheer perseverance in profession. 'Prana Irovargu Prayathna Padthane Irbeku' is the wonderful slogan that Ganeshan came up with on Wednesday. The film 'Navabharathi' thrown into the dustbin has succeeded in the box office.
In Switzerland and Paris he shot for the film of his son Subhash and Nisha starring in the film 'Pritsu'. The film is about the latest era of love. There is a lesson from this film and the audience collects tears for sure he says. He immensely thanked the god of music Maestro Ilayaraja and his friend Nataraj and Naresh for giving him support.
For two years of hard work we are here today with audio of the film 'Pritsu', I thank my father K Ganeshan for the extended support, said debutant hero Subhash in his address.
Ba Ma Harish, Seven Raj, Teshi Venkatesh, Ravi Victor and others graced the audio release event.