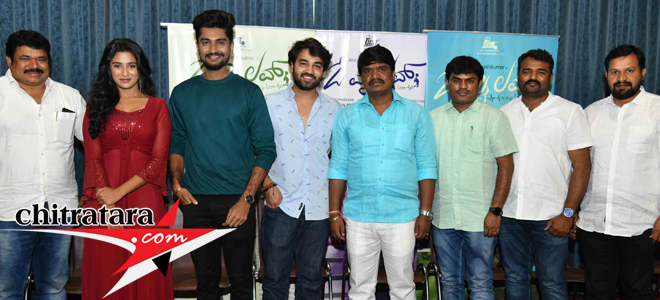 The real star Upendra blessing the top star Shashikumar son Akshit Kumar released the first song of the film 'O My Love' that has Ramanjin story and production for Smile Sreenu directorial venture.
Upendra sitting next to Akshit Shashikumar watched the song of 'O My Love' on the sets of his film 'Kabzaa' and blessed the whole team of the film.
The song released by Upendra 'Enaitho Kane… shot colorfully by director Smile Sreenu screened at SRV Theater on Wednesday evening. Smile Sreenu remembered the song getting green signal when he was at Thirumala Hills. He only suggested changes in 'Charana' and Dr V Nagendra Prasad happily wrote this song. Nizar Azin and Anurdha Bhat delivered this song. For the positive vibes he got, Smile Sreenu thanked the producer and media. We have not set any money for social media to boost our previous teaser of 'O My Love' . It is very organic, he stated.
Keerthi Kalakar, looking very beautiful, thanked dance director Murali and Upendraji for releasing the song.
Akshit Shashikumar thanked Upendra for releasing the song at the break time of 'Kabzaa' and it was his wish that Upendra should release his film song. As Shashikumar was busy in Challakere could not make it to the event, he said.
Prithvi Raj, a handsome actor, thanked the director for giving him a very good role. The whole film runs with three characters and I am one of them. There is Navarasa in this film. After acting in this film he got a prime role in 'Doresaani…TV serial. His name is Prithvi in the film is another happiness of this promising actor Prithvi Raj.
Producer Ramanjin thanked hero Akshit for giving the Upendra connection for the release of this film song. He is very confident in the progress of his film so far.
Producer Ramanjini closets Raghavendra and Ramakrishna present to explain the growth of their friend at the song release event of 'O My Love'.