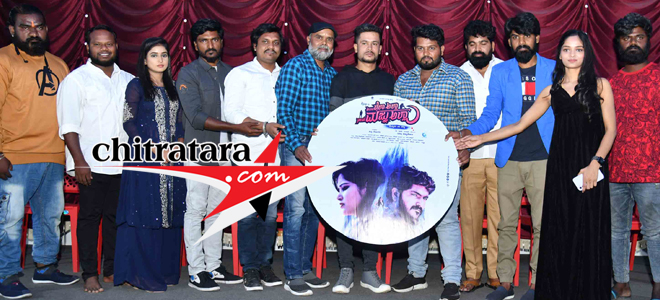 `Avalu Laila Alla Naanu Majnu Alla` (ALANMA) Mannisu Nanna as caption - a film by newcomers released the first song Preethi Madu Preethi Madu Antya Iddalle….sung by Manju screened and the making of the film followed on the big screen of Sri Renukamba Digital Theateron Thursday evening in Bengaluru.
A very touching song Preethi Madu….is sung very well by singer Manju and it is one of the five songs from music director Kaushik VL. This is RA Productions, Raichur district`s maiden venture.
In the presence of reputed dance and action master Chamraj, Viji Kilara backbone of the film, Dasappa, producer Siddu Togari the poster of the film ALANMA released in the crowded gathering.
Yallu Punyakoti is in his debut as director with knowledge in short film making and theater activities. The school, college and degree stages of the protagonist are the focus. He advised debut hero Ajay to reduce weight and increase weight for the film shooting purpose and it was a tough task for the debut hero. He was given proper medical advice for the weight reduction and the director gave impetus for his effort. Hailing from Koppala taluk Kushtagi Yallu Punyakoti is very confident of his film getting audience response and he maintained the good feel and emotions in his ALANMA.
Music director Kaushik, slightly depressed with his work going unnoticed with films like KGF 2, said it is three years planning for this film. He has two sorrows, one tappanguchi, and two melody songs in this film.
Debut hero Ajay Kumar is the brother of producer Siddu Togari hailing from a remote village in Raichur district picked up experience from the stage and I am like 'Kuri Kayo Hudga' . I guarded the role with care and affection. I am a rough and tough guy, the transformation of physique was very challenging, he said.
Dingri Naresh also hailing from northern Karnataka with fame and name today explained his journey with the film and thanked for bringing him on board. He has immensely liked the Kannada Rajyotsava portion in this film.
Lead actor Niharika was absent while another heroine of the film Ashwini who comes in the school age portions felt happy for this film despite some irksome situation she faced in the process of completion of her role.
Playback singer Manju paid tribute via song to APPU, disclosed his experience in the career so far, and thanked the team for extending the opportunity.
Karthik S is cinematographer, Gautham Nayaki edited the film, lyrical editor Madhu, Charan and Balu are choreographers, Ramesh has done stunts.