Posted date: 10 Sun, Apr 2022 04:39:01 PM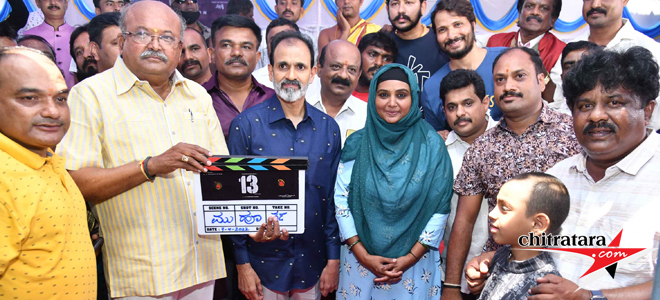 The Dodmane pride Raghavendra Rajakumar as Mohana and highly talented actor Shruthi as Sahira Begum – a couple in the film '13' mounted the sets on Saturday morning at Kanteerava Studio.
To introduce the characters director of a few interesting films Narendra Babu invited Raghavendra Rajakumar and Shruthi (Hijab style for actor) who came with rag picking bag on a TVS champ vehicle – this is the opening shot for the film and retained in the film says Narendra Babu. Worldwide number 13 is considered unlucky, I have picked this number with a purpose he says.
Raghavendra Rajakumar as Mohan a Gujri shop owner and Shruthi as Sahira a Tea shop owner continue the profession even after marriage. In the flashback Raghavendra Rajakumar is a strict cop while Shruthi as Sahira falls in love with him for his nature and marries him.
According to the director of O Gulabiye 100 days film, Pallakki and his ninth film is more on the creative side. It is a suspense thriller movie and one real life incident came as a spark for him. Pramod Shetty is inspector, Dileep and others are in the cast. Sohan Babu is making debut as composer of music for three songs. It is a sixty days schedule with Manju as cinematographer.
Sampath Kumar, Manjunatha realtor and Manjunath have made a firm mind in winning from this film investment.
Raghavendra Rajakumar says the title '13' creates curiosity and it is a stepping-stone to success. After Geluvina Saradara I am acting with Shruthi who is a household name for her films.
It is love marriage not 'JIHAD' with Raghavendra Rajakumar in the film stated actor Shruthu decked in Muslim woman getup and further said she is taking workshop to emote the right histrionics for this film. I don't want the Muslim community to feel bad she stated.
Kannada Cinema's Latest Wallpapers
Kannada Cinema's Latest Videos
Kannada Movie/Cinema News - RAGHANNA-SHRUTHI IN 13 - Chitratara.com
Copyright 2009 chitratara.com Reproduction is forbidden unless authorized. All rights reserved.