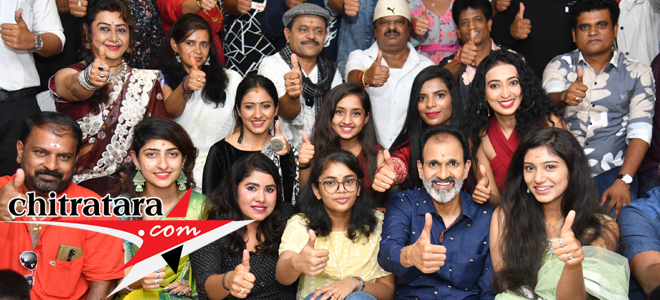 Another family oriented title 'Samsara Sagara' from woman producer Smt Komala Nataraj launched at Mourya Hotel in Bengaluru. Raghavendra Rajakumar is appearing in a pivotal role. One-day two films muhurut held for Raghanna professional career is a new development in his career. At Kanteerava Studio he attended '13' Kannada film muhurt and later at Mourya Hotel.
Manju Kavi given the title of 'Miracle' at the 'Marakastra' Kannada film launch day is directing this film. The crush of three youths, marriage and misunderstanding is the focus in this film. lyricist and music director Miracle Manju is in his second film as director.
Producer Komala Nataraj says the film has good contents of plus and minus of family life.
Raghavendra Rajakumar addressing on his second film launch in one day stated that he is one of the artists in this film 'SS'. All characters are different, he stated.
Dixit Dhanush, Anand Arya, Raksha, Bhumika, Laksha Shetty, S Narayan, Tennis Krishna, Rekha Das and others are in the cast.
Nataraj, one of the actors of this film and husband of producer Komala, stated this film is also made with social objectives in mind.