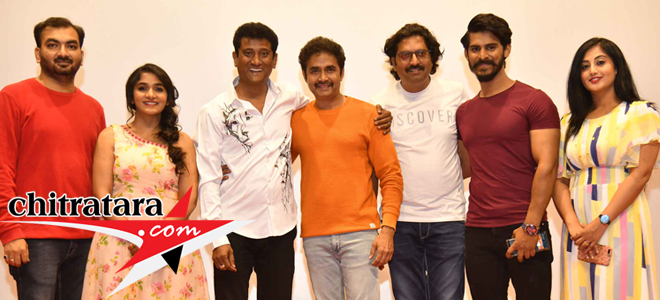 The best pal in the professional life of Taranga Vishwa – actor, producer, singer Sharan graced the trailer release event of 'Girki' Kannada cinema at Kalavidhara Bhavana. This is the production of famous comedy actor Taranga Vishwa ready with post production work.
I have taken up hero and co producer at the 100th film 'Rambo' and after 100 plus films my good friend Taranga Vishwa is turning producer and he has struggled very hard in his career and both of us never thought of reaching to this stage in life – Sharan stated, he wished tremendous luck for the production of his friend.
22 years in the cinema and TV acting Taranga Vishwa is appearing in the role of Vajramuni, a cop. He recalled his journey in the professor and saluted his parents for making him flourish his choice. I should thank Abhinaya Taranga for giving me a good ground via street plays. He said it was Jhoot in 1996. He came to cinema, the reason for opting production is that there was a producer earlier and he had to give up in the middle.
The lead actor of the film Vilok Raj who was Shashikumar earlier recalled the insult he faced at the same place a few years ago and at the same place he is standing as hero = for this reach Taranga Vishwa helped me a lot he said.
Divya Uruduga of Big Boss fame and talented actor disclosed on and off fun working for this film. She falls in love with a bar supplier and the role connects in the society she said.
Raashi Mahadev in her second film is a constable in the film and it was difficult to adjust, she said.
Veer Samarth, a reputed music director, today scored music for three songs.
Making debut as director, Veeresh PM is from the camp of Yogaraj Bhat and it is because of Vasuki Bhuvan and Vishwa I am standing here today, he said. The characters in this crime thriller surround each other and we have done shoot in 36 days, he said.