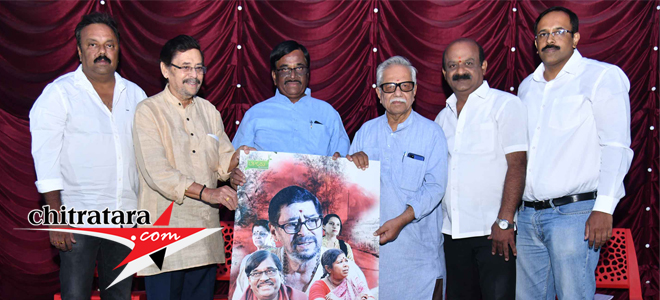 There are producers with social concern. Nidasale M Puttaswamaiah is one such standing example. After losing Rs.20 lakhs from his hard-earned retirement benefits, recovering later via subsidy of the Karnataka film industry, he did not stop film production. Now 71 years Nidasale Puttaswamaiah is forging ahead with his fifth film production besides doing wonders in the publication division of Kannada books. 'I am making films despite failures to keep myself engaged' he firmly says speaking to the media on Monday evening at the poster launch of his latest film 'Agni Varsha'.
Nidasale Puttaswamy, maker of 'Siddaganga, Vav Murugesh, Neeru Thandavaru and Anuththara' himself being a writer, picked the novel of Gargi Karehaklu for his fifth film 'Agni Varsha'.
Nidasale Puttaswamaiah is introducing his son Vijay as director of this film in Chiguru Creations. The sincere effort to get veteran actor Shivaramanna for the pivotal role could not materialize for the departure of the actor. The next right thought he made in selecting Ramesh Bhat for the role of Kittayya. There are thirty plus artists and my journey from 2012 is giving me satisfaction in work he says. As Chandraiah Hegde, Nidasale Puttaswamaiah appeared as a friend of Ramesh Bhat who is Kittayya in the film.
Veteran actor Ramesh Bhat says he is a 'Bar' (/) actor in so many cases. In a few cases, I have been selected instead of another actor and I do not have any regrets for it. The profession is like that he says and accepted this role after seeking blessings from Shivaramanna visiting his house. This role is 'Shivaramanna Prasada' , he says.
In my professional career of 600 films and TV serials – Very popular 'Crazy Colonel' TV serial role came to me after CR Simha, Lokesh could not make it Ramesh Bhat remembered. This is the film that I got from a script, novel to prepare myself. There are some 'Sathvika' portions in this three track cinema 'Agni Varsha'. Riding a 45 years old Moped also happened for this film. This is not a film of just date and rate! My co artist Prathima Naik gave a terrific performance and first time director Vijay Nidasale is circumspect, Bhat added.
For Ramesh Bhat the diction was difficult but his suggestion to make it simple to reach the audiences was accepted by the writer, producer and director.
Set in the backdrop of the Malnad region, this film 'Agni Varsha' is the conflict of emotions that focuses on the latest issues of society besides the importance of the environment.
Vijay Nidasale directed Chandra Bimba two decades ago for Doordarshan says there are many value additions in 'Agni Varsha'.
Kumar is in the advocate role, Shivakumar Ambli of Mumbai is cinematographer, L Mohan Rangakahale edited this film, Pandit Pravin Godkindi composed two songs and also sang a song in this film 'Agni Varsha'.