MY NAME IS RAJ MUSICAL PROGRAM
Posted date: 17 Sun, Apr 2022 05:40:37 PM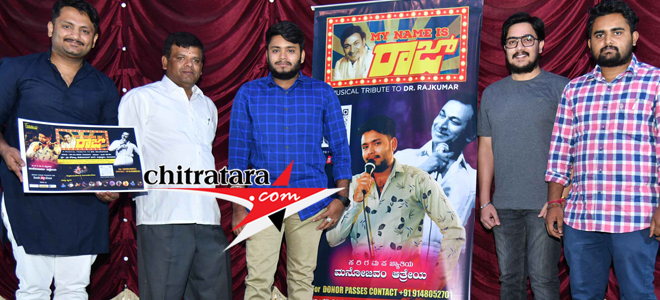 It is salutation to the legendary Dr Rajakumar via songs that depict morality on 28th of this month and on April 24 is the 94th birth anniversary of the Dadasaheb Phalke award winner `Annavru`.
Manojavam Athreya, a singer from childhood considered as `Mari Annavru` in musical shows, comes up with an idea that deserves appreciation.
Gana Gandharvanige Gana Namana `My Name is Raj` musical evening is taking place at Chowdaiah Memorial Hall on 28th of this month. The ticket price is Ra.500 and Rs.350. The proceeds earned from this event are donated to 'Shakthi Dhama' Mysuru and 'Navachetana'.
The tickets are available on the BookMyShow platform. Senior director SK Bhagwan and others are taking part in the musical event.
One of the songs penned by Manojavam Athreya is released on this occasion. Athreya`s father Janardhana, Team Athreya members Bharat, Prajwal Kashyap and Manoj Hosmane present at the media address at Renukamba Digital Theater in Malleswaram, Bengaluru.
Three promo related to 'My Name is Raj' screened on this occasion.
Kannada Cinema's Latest Wallpapers
Kannada Cinema's Latest Videos
Kannada Movie/Cinema News - MY NAME IS RAJ MUSICAL PROGRAM - Chitratara.com
Copyright 2009 chitratara.com Reproduction is forbidden unless authorized. All rights reserved.