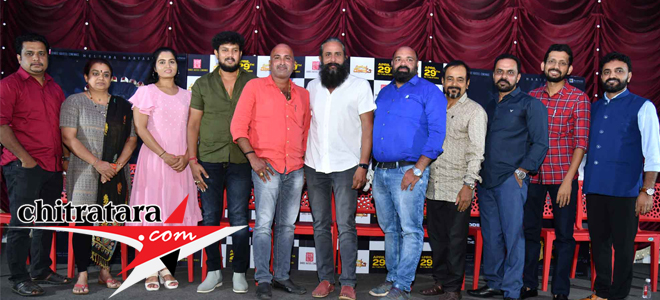 It requires nerves of steel to make a film of this content. It is true. The smuggling of 'Haralu'(Crystal) a precious one is well before the KGF digging of gold.
This is what struck the mind of debutant and intelligent director Naveen Krishna a journalist in profession. While his close friend Yash in the name of Naveen worked with this Naveen in Benaka team of theater and proceeded to become an international figure via 'KGF' sequel, the fate of debut director Naveen is decided on 29th of April in the box office. For both Naveen a precious material is important in career progress.
Journalist Naveen Krishna as a director backed by another stormy petrel journalist cum director Chandrachud with screenplay, dialogues and lyrics for the film. Both remembered the hectic shoot as the people and police kept a shrewd eye on the proceedings of the shooting. Since ages the 'Crystal' smuggling is touching in this film.
Chandrachud worked on this crystal smuggling and made a series of investigation reports in 'Hai Bangalore' on the insistence of Ravi Belegere and the same subject came up in mind of Naveen Krishna was easy going further.
Srinagara Kitty famous actor graced the trailer release and song bits release event at Renukamba Digital Theater on Monday evening. For this film trailer Abhinaya Chakravarthy Sudeepa extended best wishes after watching the trailer.
The last film of Sanchari Vijay has many surprising factors. For one of the scenes Sanchari Vijay dug a six by four feet and slept there for the purpose of shooting. In addition to the gory adding one more is the song line of late LN Shastry – Kalla Kalala Gopala – it was bidding good-bye to Shastri and Sanchari Vijay. Writer Chandrachud curses to himself why did he write such lines. Bhumi Olage Irodu Amrutha, Bhumi Mele irodu Visha is the concept the film touches says Chakravarthy Chandrachud.
Producer Bharath Kumar hugging his friend Ganesh made a humble appeal to get good results for the film. This would encourage us for many good works he said.
Noted theater personality recommended that everyone should watch this film.
In the last film of Sanchari Vijay he is 'Iruve' character that has many dimensions. Sakkare is Ananya Shetty with two dimensions; the demon is Sulaiman character of Chandrachud.
Suma Shastry husband of late LN Shastry recalled the days of her husband recording the song 'Kalla Kolala Gopala…it was acute stage but Shastri did not give up performing his task mentioned Suma Shastry.
Chittara film magazine proprietor Shivakumar disclosed that he liked the title first and looking at the trailer today he was impressed.
Naveen Kumar in the politician role in 'Melobba Maayavi' presented his experience of the role.