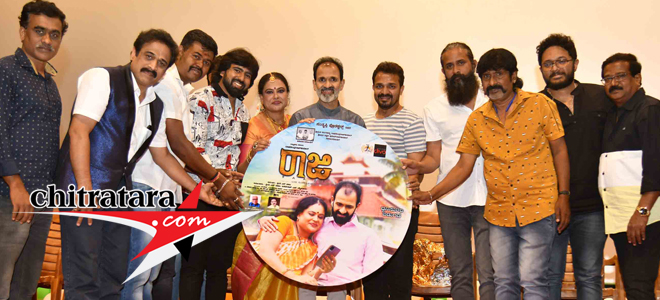 Another woman director Preethi arrives with a good family oriented subject that is touching and sober in its contents. That is 'Raaji' features state award winning actor Dodmane Raghavendra Rajakumar in lead role and Preethi besides direction acted in the role of wife in this film 'Raaji' that is made without any 'Raaji' (compromise).
Talented actors Vijaya Raghavendra and Srinigara Kitty graced the event of trailer and audio launch at Dr Ambarish auditorium in Kalavidhara Bhavana on Monday afternoon. One of the beauties of the film is seven songs scored by eminent music director Upasana Mohan.
The film 'Raaji' is based on Smt Vasumathi Udupa novel 'Pativratege Kiritagalu Eshty'. The film is heading for release on 29th of April.
Srinagara Kitty looking different from his beard said he misses Appu very much and he was like a magician. I don't believe that he had gone. The 42 days of shooting of 'Hudugaru' came in the memory of Kitty.
Vijay Raghavendra in his address stated that he grew up looking at films of his paternal uncle Raghanna and he is always an inspiration in life.
This film is close to my heart. This film was supposed to start in the presence of my brother Appu on 29th October but it could not happen. Now this film is releasing on 29th of April is a coincidence. Appu is inside and I have performed with difficulty. I dedicate this film to him. I thank the producer and director for giving me a job for me to work, he stated.
A senior actor in small, big screen and in the theater team, Preethi says this film is very special for her career so far. I am getting Ananda Bhaashpa this day for the final stage of the film. It is my child and so good in content. I hope everyone likes this film 'Raaji'.
Upasana Mohan has scored seven songs with variety in this film and introduced a few new singers and is hopeful of good response. The Jodi Hakki….song got a wide response already. The lines Chinte Bidu Geleya Baruvudu Olle Samaya…are interesting and this is his third musical score for cinema. The highly respected Dr HS Venkatesha Murthy wrote songs for this film while PVR Swamy is cinematographer.
Producer Basavaraj of Mysuru thanked his team members and so far, everything is good. Tabala Nani, Harish, Sagar Puranik, Pratap Simha, Kempanna Shetty, Muniraju Ramaiah, Audigodi Srinivas and Dr Nagendra Prasad present at the audio and trailer launch of the film.