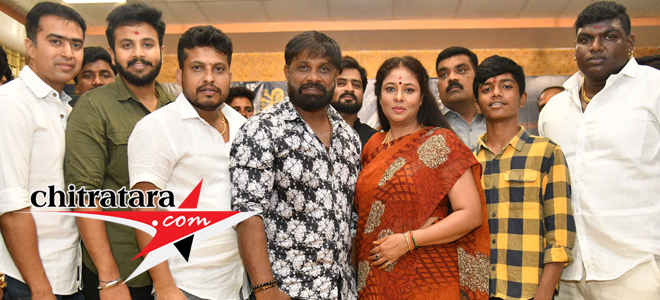 Here is an interesting title for the popular star Dhuniya Vijay. The title 'Bhima' refers to the ancient Mahabharatha and to the 20th century 'Bheema Rao' the father of Indian constitution.
How 'Bhima' makes his sketches is a curious watch and for Dhuniya Vijay the eminent writer Masthi is there to look at the ancient angle and present angle of Dr BR Ambedkar (He is Bheema Rao).
After 'Salaga' super hit film as debut director Dhuniya Vijay achieved new distinction in KP Srikanth production and this is his second directorial venture. The film 'Bhima' went on the floors on Monday morning at the famous deity Bandi Makalamma Temple. A good message is told via entertainment in 'Bhima'. Dhuniya Vijay had seen the persons connected to this subject and without revealing the names bringing out trials and tribulations on screen.
The colleagues of Dhuniya Vijay in the film field Srinagara Kitty, Dolly Dhananjay, Anand Audio Shyam, producer KP Srikanth and others graced the occasion and blessed the effort of Dhuniya Vijay.
'Bhima' is in the production of Jagadish and Krishna Sarthak. The film is based on real life incidents. Jagadish got this title 'Bhima' from noted actor Malashri for Vijay. He thanked Malashri for permitting the title. Charan Raj is scoring music.
Kalyani, a noted actor in small and big screen mother to Dhuniya Vijay in 'Jayammana Maga' is back as mother again in this film. Black Dragon Manju is in a prominent role and the lead pair for Dhuniya Vijay selection is in progress. Dhuniya Vijay alias Vijay Kumar thanked his colleagues and KP Srikanth on this occasion.
Kalyani speaking to the media said she is a sober mother as well as a mother with some anger. Producer Krishna Sarthak thanked the production team of 'Bhima'. DHUNIYA VIJAY IS 'BHIMA'