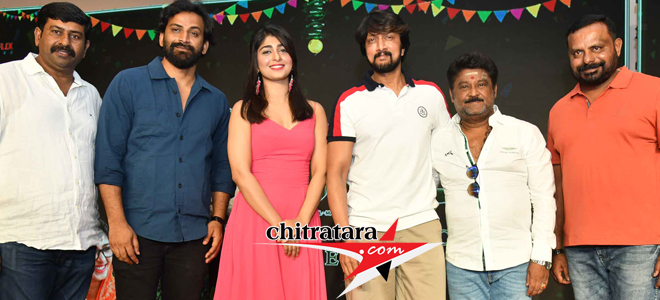 For the superb trailer of `Thotapuri` part I, the super star Abhinaya Chakravarthy Kichcha Sudeepa graced the event and immensely liked producer KA Suresh another mass film that features Navarasa Nayaka Jaggesh and Aditi Prabhudeva in lead roles. Vijaya Prasad continues his innings with tasty dialogues for `Thotapuri` that is hitting silver screen at this`Thotapuri` mango season.
Kichcha Sudeep appreciating the caliber of Jaggesh said when he is talking we like to hear it continuously. He is such a fine speaker, stated Sudeepa and lauded the marvelous attempt of the team. I am just tall but Jaggesh is an achiever. The dialogue he had told had it come to me, it would have trolled a lot in social media.
Kichcha Sudeep on this occasion appreciated the strength of Dolly Dhananjay, he is an inspiring actor, in his face, he has special capacity, intense acting and is organic in nature. He is an asset to the Kannada cinema industry, he felt. Dolly Dhananjay`s entry in`Thotapuri` very good mentioned Kichcha Sudeepa.
Drawing his attention to Veena Sunder, Sudeepa said she is a fine actor and I had the opportunity to direct her in `Ranna`. Thotapuri film Sudeepa said every character of this film gives a kick. The senior`s base for Kannada filmdom is very good for this stage today he opined.
Sudeepa appreciated the naughty nature and serious topics presentation of director Vijaya Prasad. I wonder what happens when he writes dialogues for my films.
Navarasa Nayaka Jaggesh in his address applauded the presence of Kichcha Sudeep. When we were watching Amitabh Bachchan films and feeling happy, our Sudeep acted with him and got wide appreciation.
There is a good story and screenplay besides dialogues said director Vijayaprasad, a continuous winner at the box office. The love story without any hassles he said and thanked Kichcha Sudeepa for his presence to the audio release.
Actor of high caliber Dolly Dhananjay thanked producer and director Suresh and Vijaya Prasad respectively for giving him a chance to act in this film.
Adhiti Prabhudeva with scores of films on hand is in Muslim attire and this is a national integration cinema too.
Producer of very successful films like Govindayanamaha, Shravani Subramani, Shivalinga etc KA Suresh is ready with Totapuri part 1 and sequel is also ready with shooting. This film is slated as Pan India cinema. The Hindi, Telugu, Tamil, Malayalam language dubbed version is getting ready.