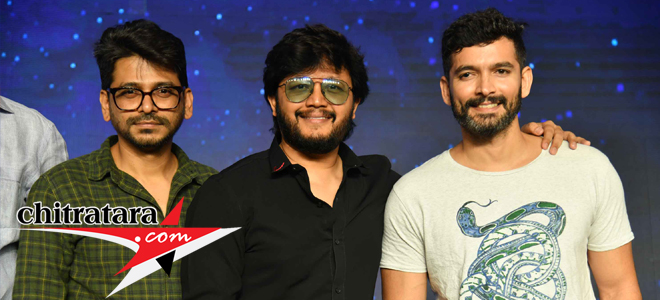 The Yogaraj Bhat and Golden star combination is happening again – the Mungaru Male super hit status continued in 'Galipata' and the sequel in continuation has a different tale to tell.
At the well-attended event at Lalit Ashok Hotel the examination song of the film featuring Golden star Ganesh, Diganth and Pawan Kumar was screened. It received a massive response in social media today.
In just one day Pareekshena Badiya….exams Nagarhav Kadiya… sung by Vijayaprakash and Arjun Janya in Arjun Janya music composition in Anand Audio you tube 3,267,508 views – this song also has a few dialogues from Yogaraj Bhat director of the film. Yogaraj Bhat penned the peppy song and this is already the talk of the town.
SP Suraj banner Ramesh Reddy (Nangli) fourth venture in Kannada is sure to click very well assures Golden star Ganesh speaking at the song release event. At the beginning of this film he was not part of the cast but came on board after a few days.
The Galipata 2 is lead by Ganesh, Diganth and Pawan Kumar (addition in sequel in place of Rajesh Krishna), Anant Nag versatile actor continues in the sequel – there are four beautiful heroines are Sharmila Mandre, Nishwika Naidu, Samyuktha Menon and Vaibhavi Shandilya, this is perhaps the last film of late comedian Bullet Prakash.
Santosh Rai Pathaje handles the cinematography. The much anticipated film Galipata 2 (the first one came out in 2008) has been sold for a whopping price to satellite and Digital. Zee Kannada and Zee 5 acquire the rights.