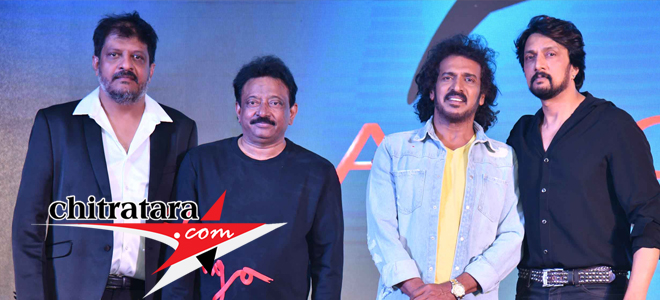 It was three prominent directors on stage on Saturday night at Lalit Ashok Hotel for A Square production. Ram Gopal Verma, Upendra and Kichcha Sudeepa – while RGV is a director the other two stalwarts from Kannada filmdom are also actors and producers – pinch hitters.
The purpose was to launch the `I am R` title by Kichcha Sudeepa at a massive attendance event. This film is also a comeback for renowned producers of `Bhale Raaja`,`Saakshatkaara`and `Premada Kanike` Yajaman Moti Veeranna next generation Yajaman Rajanna. The day happened to be the 51st birthday of A Square banner Yajaman Rajanna.
In the presence of former minister h Anjaneya, Govindaraju, Lahari Velu, Satish Shetty, MP Suresh, Mukesh HS Nagaraj, Subhash Chandra, Jaipal Reddy and others the title got launched after a musical dedication to Puneeth Rajakumar, songs and dance from the films of Upendra and Kichcha Sudeepa. The Sai Baba devotee Yajaman Rajanna arranged for the painting of Shirdi Saibaba for the Bhajan in the background from Vilas Rao Nayak, eminent painter of this country.

RGV speaking highly of Kannada filmdom today because of the reach worldwide from KGF, he thanked Prashanth Neel and Yash. At one point of time in the North it was known as Madrasi films from the south. Now the reach is extremely good. I and Upendra have a common point of shocking the audience. He is double because also an actor. We are attempting a gangster film that had its impact in Karnataka, Mumbai and Dubai. At the trailer launch I would reveal what RGV is `R` stated RGV.
Apparently, the `R` refers to Muthappa Rai the late reformed don and the brief narration what RGV had given on gangster film matches precisely that it is a film on Muthappa Rai.
R might be Real, R might be Revolution etc Kichcha Sudeep mentioned and told RGV to maintain the suspense of it for some more time. RGV took me to Mumbai and I am a strong follower of Upendraji. One is silent and the other one is sound. Uppi sound is still on and waiting for his new film that had its title launch. What better combination is required than this told Sudeeepa. Both trying different is a high voltage expectation, I am jealous how both can leave me out Sudeepa pointed explained his affection. He also lauded the audio visual of the Moti Veeranna banner and said Yajaman Rajananna is a strong man with humanity in him.
The man of the moment of `I am R` super star, Abhimanigala Chakravarthy Upendra said the fans and Achchumechchina Kichcha Sudeepa did not make me to sleep for 15 years and now a new film is coming soon in my direction he said. On his admiration to RGV, the Kannada super star actor cum director Upendra pointed out that he kept his script packed after watching `Shiva`. He took four years to bring it back with the `Om` title adding some new elements. RGV is the gutsy director. He is a fearless director in India. I am working for the first time in his direction. Yajaman Rajendra producer today acted in `Upendra` as Dhamini lover and I wish good luck and best wishes for his birthday, said Upendra.
Top anchor Anushri handled the event by matching the right words for right stalwarts on the dais.