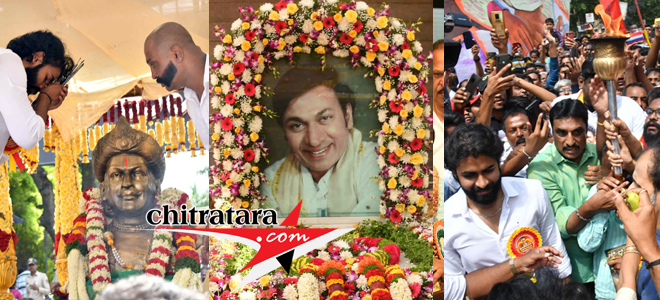 The 2022 April 24 was special because after three years lapse (Corona Pandemic) Padmabhushana Dada Saheb Phalke award winner Dr Rajakumar birth anniversary 94th celebrated with pomp and gaiety.
In the morning there was 'Raj Rathotsava' with Appu portrait in it - there were magnificent flower arrangements for the memorial of Dr Rajakumar, Parvathamma Rajakumar and Puneeth Rajakumar. Over 10000 persons given food at Sri Kanteerava Studio, there was eye camp, eye donation signature signed by many and in the evening the Karnataka government celebrated Dr Rajakumar 94th birth anniversary at Ravindra Kalakshetra presenting the long pending 2017 Karnataka state Film Awards, noted actress of South India Lakshmi received Dr Rajakumar award on this occasion.
In the Dr Raj Rathotsava from Coolie bridge to Dr Rajakumar memorial Karnataka state BJP President Nalinkumar Kateel took part with Karnataka Ministers Munirathna Naidu, K Gopalaiah, Okkuta hon Pre NR Ramesh, MP Muniswamy, Honne Gowda, Prakash, Somanna, Umesh and Dr Raju participating in it.
The family members of Dr Rajakumar arrived for the birth anniversary celebration. Raghavendra Rajakumar speaking on this occasion said it is 'Janagala Habba', my father used to say about moral values, only good work remains in the memory. Yuva Rajakuar, Sa Ra Govindu, SA Chinne Gowda, Prof Baraguru Ramachandrappa and others took part at the memorial.