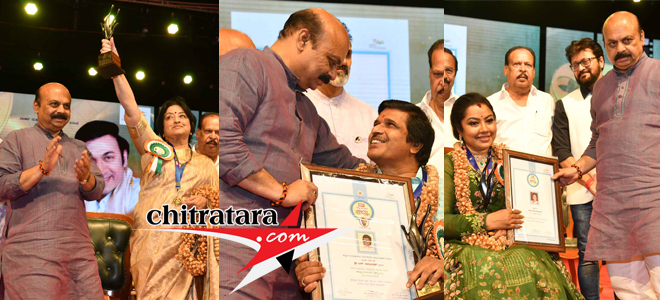 The Karnataka State Film awards for 2017 was presented on the 94th birth anniversary of Dr Rajakumar at Ravindra Kalakshetra by Karnataka chief minister Basavaraja Bommai in a packed auditorium.
The Karnataka chief minister speaking at this grand event mentioned that Film City will be coming up soon and the date of Karnataka Rathna award for Puneeth Rajakumar announced soon.
The top actress of India Lakshmi – acted with Dr Rajakumar in Kannada received the Dr Rajakumar award, noted director S Narayan presented doyen director SR Puttanna Kanagal award on this occasion.
Actor of high caliber Lakshmi speaking on this occasion said acting with Dr Rajakumar is one of the most memorable moments in life. S Narayan receiving the award said he went once to work with Puttannajji but he could get an opportunity. Today receiving the award in his name is a blessing, he said.
Receiving the best actress award for `Hebbat Ramakka` Kannada film Thara Anuradha urged the government to present the awards in the same year to avoid a backlog.
Other award winners of 2017 are - Vishruth Naik of Manjari Kannada film the best actor.
First best film `Shuddi`, Second best film March 22, Paddayi is third best film. Hebbat Ramakka is the best social awareness film the popular best film is Puneeth Rajakumar `Rajakumara`.
Best children film is `Eleyaru Navu Geleyaru`. Ayana director Gangadhar Salimath gets the debut director award. Konkani language film `Sophia` won the best regional award.
Best supporting actor Manjunath Hegde for Lakshminarayana Prapanchane Bere, Rekha best supporting actress for Mooka Nayaka, best Story is Kengulabi of Hanumantha B Haligeri, best screenplay Venkat Bharadwaj for Kempirve, best dialogues to SG Siddaramaiay for Hebbat Ramakka, Best cameraman is Santosh Rai Pathaje for Chamak, best music director is V Harikrishna for Rajakumara, best editor is Harish Komme for `Mufti`, best child actor is Master Karthik of Rama Rajya, best child actress is Shlaga of Kataka, Best art director is SV Ravi for Hebbuli, best lyrics to JM Prahallad for Muththu Rathnada Pyate…for March 22, Best female playback singer Apoorva Sridhar for Asavulla Daadi Bitta for Dayavittu Gamanisi, Tejaswi Haridas gets best playback singer for Valase Bandavare for film Huliraaya, Sridharshan gets special jury award for `Mahakavya` and best production manager is Suresh K for Hebbuli.