PURUSHOTTAMA FOR MAY 6 TEASER FINE
Posted date: 27 Wed, Apr 2022 01:02:27 PM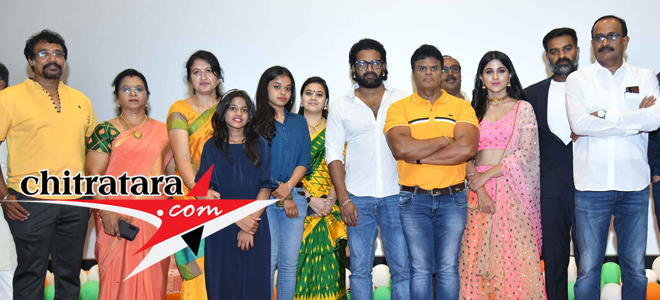 The international fame Bodybuilder, actor of 135 films and great human being AV Ravi alias Gym Ravi hero in the meaningful film 'Purushottama' trailer got released from the lucky hands of famous actor and director Rishab Shetty on Tuesday evening in a massive attendance Dr Ambarish Auditorium of Kalavidhara Sangha.
The chief guest on this occasion Rishab Shetty applauded the energy and happiness of AV Ravi as he was running around all over to invite guests and make them comfortable. The dream of becoming a hero has been fulfilled for AV Ravi. I feel it is a strong family film. For AV Ravi I came straight from 'Kanthara' shooting. We have made a bigger leap via KGF and let us hope for good results for AV Ravi too, he stated. Later Rishab Shetty felicitated by IAS officer Sharath.
As the film is set for May 6th release all over Karnataka AV Ravi invited Vijayanna the real producer on stage and said it is his encouragement and support he made the film 'Purushottama'.
In his long speech, AV Ravi recalled his very struggling days. How his parents struggled for even one rupee and how they brought him up in life. Ravi became emotional when he remembered his hunger days. He lived on three principles of his mother even today. The big dream that Ravi was told by his mother happened in life. He travelled 18 times to the USA and won international awards. He folds his hands in front of small or big and forging ahead with excellence. One of the incidents of eating Masala Dosai was a touching episode of his life.
AV Ravi is Mass Darling from this film and this is the third film of Amarnath writer and director. From the brother of AV Ravi I got the opportunity to work in this film he said.
On behalf of distribution sector director Sathya Prakash who floated a new distribution office with Manjunath producer wished good luck to AV Ravi and team.
Aiplex, a multinational company today headed by Girish and team working for the last 19 years is supporting in the digital front for AV Ravi Purushottama.
Mithra Foundation Rame Gowda, Smt Sheela MD of Mysuru Electrical Company, Prabhu, Jyothi Ravi, Kannada Manju, Girish Naidu, PSV Naidu, Balu, Varthur Srinivas and many others all well wishers of AV Ravi graced the trailer release launch.
Kannada Cinema's Latest Wallpapers
Kannada Cinema's Latest Videos
Kannada Movie/Cinema News - PURUSHOTTAMA FOR MAY 6 TEASER FINE - Chitratara.com
Copyright 2009 chitratara.com Reproduction is forbidden unless authorized. All rights reserved.